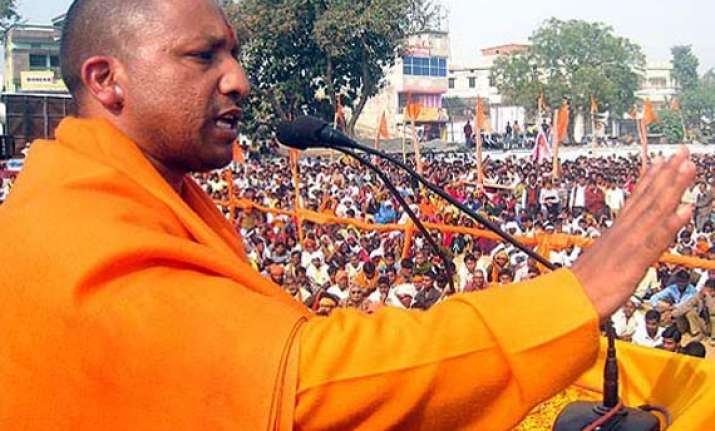 New Delhi: The BJP seems to have made up its mind about handing over the reins of party's campaign in upcoming assembly by-polls in UP to Gorakhpur MP Yogi Adityanath.
According to reports, Yogi Adityanath will be the pivot of BJP campaign in UP this time and he will be assisted by state president Laxmikant Bajpai and former CM Kalraj Mishra.  
BJP's decision becomes significant in view of the fact that out of the 11 assembly constituencies that are going to polls on August 13, at least four – Saharanpur, Nagar, Bijnor, Thakurdwara and Noida – fall in communally-sensitive Western Uttar Pradesh. Incidently, these are the areas currently under focus for the forced conversion controversy , popularly known as Love Jihad and BJP's protests on the issue have openly targetted Muslim community.   
The state leadership of the BJP earlier was in favour of making  'Love Jihad' the main poll plank for the party but the reluctance of the central leadership to approve it, given the risk of being blamed for using a blatantly divisive slogan for electoral gains, forced the state unit to drop it from the political resolution. 
Now the question is that why has the party given the baton to someone like Yogi Adityanath who is known for his provocative and inflammatory speeches? Has the party realized that its electoral success squarely hinges on its core Hindutva ideology? Is the party convinced now that in absence of Modi, it can't rely on development to win electoral battles? Has the drubbing in Bihar by-polls forced the party to give a free hand to those who are in favour of adopting aggressive Hindutva hardline as electoral strategy? 
A new video of Yogi Adityanath has emerged in which he is seen as making provocative speeched targeted at Muslim community although the Gorakhpur MP has questioned the veracity of that video in India TV's "Aaj Ki Baat" show. Yogi Adityanath alleged  that the video seems to be a pure "cut-paste" job. 
Although Yogi Adityanath questioned the authenticity of the video, he didn't mince words in attacking Muslims for cases of 'Love Jihad'. Will his projection as the face of the BJP in these by-polls, do any good to the image of Prime Minister Narendra Modi who had called for putting moratorium on all issues that has the potential of dividing the society on the basis of caste, creed and religion for the next 10 years?