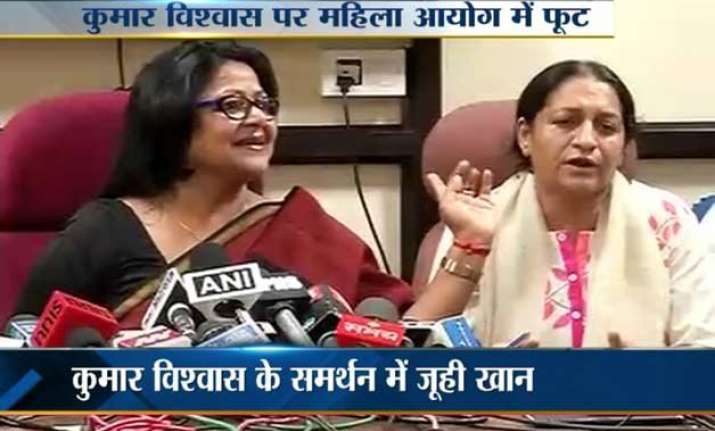 New Delhi: A high-voltage drama took place  during a press conference held by Delhi Women Commission (DCW) today.
DCW chairperson Barkha Shukla Singh had a scuffle with her colleague Juhi Khan and Barkha accused her of being an AAP member.
Aam Aadmi Party's senior leader Kumar Vishwas, accused by a party volunteer of not rebutting "rumours" about an illicit relation with her and ruining her reputation, did not appear before the commission as he was asked to do. Vishwas claimed that he was yet to get the summons from DCW.
In the press conference, Barkha said that summon was sent to Kumar Vishwas on Saturday and was received at the AAP leader's Vasundhara residence. 
"Vishwas is lying if he is claiming that he has not received the summon," said Barkha.
She further said that another summon has been sent to Kumar Vishwas, which asks him to appear before the DCW tomorrow (Wednesday, May 06) at 12 noon.
"If he does not appear again, the DCW will sent the complaint to the Delhi police," said Singh.
There was a dramatic twist during press conference by the DCW when another commission member Juhi Khan, sitting next to Singh, told the media persons that it was the case of political conspiracy against Kumar Vishwas.
Barkha Shukla Singh immediately tried to stop Juhi Khan from making a statement in this regard and said that the DCW member is an AAP activist. Singh said AAP has sent Khan to this press conference. Khan later said she is resigning from the woman's panel.