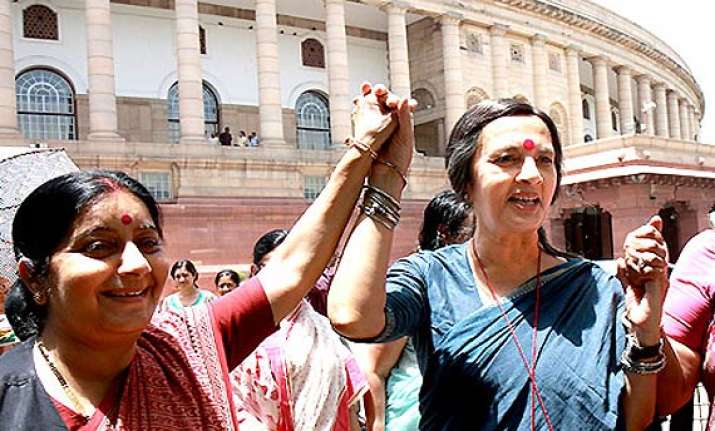 New Delhi, Aug 16: Slamming the government over the arrest of Anna Hazare and his team, BJP-led NDA, Left and several other Opposition parties today joined ranks and demanded a statement by Prime Minister Manmohan Singh on "violation of democratic rights".

As Hazare was arrested and sent to Tihar Jail, leaders of BJP, JD(U), Shiv Sena, CPI(M), CPI, Samajwadi Party, RJD and some other non-UPA parties held a meeting to discuss common strategy over the issue and came up with a vow to continue their agitation in Parliament against corruption.

"It has been decided that the Prime Minister should make a statement in both Houses of Parliament on whatever is happening in the country. Nobody else," Leader of Opposition in Lok Sabha Sushma Swaraj said.

She said the demand for the Prime Minister's statement will be made tomorrow and it will determine Parliament's functioning.

Contending that action against Hazare reflected the government's "nervousness", she said the Opposition unity was not on Jan Lokpal Bill but "violation of democratic rights". Leader of Opposition in Rajya Sabha Arun Jaitley alleged the government was "trying to snatch people's right to protest" and said "the political leadership is trying to hide behind uniform (police)".

Amid indications that Parliament would not be allowed to function, Jaitley said the impeachment proceedings against Calcutta High Court judge Soumitra Sen tomorrow will take place as per schedule at 3 PM.

Slamming the government, CPI(M) said it has "attacked the democratic right to conduct peaceful protest" and asked its party units to conduct peaceful agitation against it tomorrow.