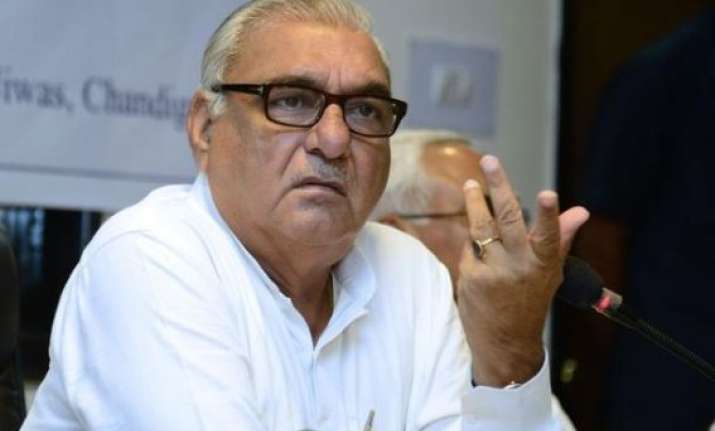 Chandigarh: After a decade-long Congress rule in Haryana, the state may see a change of guard when votes in assembly elections are counted on Saturday. Most exit polls have predicted BJP coming to power for the first time on its own.
Even in the previous assembly poll five years ago, Congress had fallen short of majority with only 40 seats in the 90-member House (as against 46 seats required for simple majority). Om Parkash Chautala-led INLD finished second with 31 seats.
The remaining 29 seats were shared by Haryana Janhit Congress-BL six, BJP four, SAD and BSP one each and Independents seven.
But Chief Minister Bhupinder Singh Hooda managed to form the government after five Haryana Janhit Congress (BL) MLAs deserted their party and merged with Congress which also got the support of seven Independents and a lone BSP member.
Unlike in recent past when the fight had mainly been between Congress and Indian National Lok Dal (INLD), this time BJP, buoyed by its success in Lok Sabha elections, has emerged as the main challenger to Congress.
Exit polls have predicted between 37 and 52 seats for BJP, 23-29 seats for INLD and between 10 and 15 seats for Congress and rest for the others including the Kuldeep Bishnoi led HJC-BL.
If BJP does form government in Haryana, names doing the rounds for Chief Minister's post include those of Abhimanyu, ML Khattar and Ram Bilas Sharma. INLD is projected by exit polls to finish second in the race for power.
BJP may have dumped Kuldeep Bishnoi led HJC-BL, with which it had contested Lok Sabha election, as ally for the assembly elections this year, but observers say that if the saffron party fails short of majority mark it could explore the possibility of enlisting the support of smaller parties including HJC-BL.
If exit polls come true, for INLD it will be a repeat of the 2009 scenario when it had remained in the second place after Congress. INLD with 31 seats had got the opposition status.