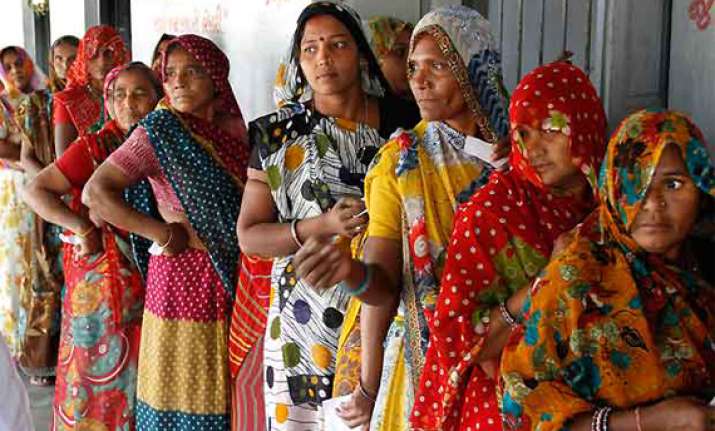 Ahmedabad, Dec 16:  Gujarat is set for Monday's second and final round of polling to decide if Chief Minister Narendra Modi can get another five-year term or the Congress can bounce back to power in the state assembly.
An estimated 19.8 million voters are eligible to take part in the nine-hour balloting in 95 of the 182 constituencies. Voting took place in the first round Thursday in 87 constituencies.
Both the ruling Bharatiya Janata Party (BJP) and the Congress have interpreted the heavy polling in the first phase to claim they were poised to win the Gujarat battle for ballot.
The regions going to the polls include Kutch, north Gujarat and central Gujarat.
"More than 70 percent will vote in this phase too," asserted BJP Rajya Sabha member Natuji Thakor. "North Gujarat is Narendrabhai's (Modi) area. He is the son of the soil. People will vote overwhelmingly for him and the BJP."
He added: "We are expecting more votes in central Gujarat than last time."
Senior Congress leader Shaktisinh Gohil was equally confident.
"I think we will see a heavy turnout in this phase as well," Gohil told IANS. "People will vote in favour of the Congress, given the anti-incumbency."
The BJP is contesting all 95 seats, the Congress 92 and the Gujarat Parivartan Party (GPP) of former BJP chief minister Keshubhai Patel 84.
Also in the fray are 84 candidates of the Bahujan Samaj Party (BSP) and 284 Independents. A total of 49 women candidates are also in the fray.
There are 10.3 million male and 9.5 million female voters.
Himmatnagar in Sabarkantha district has the maximum number of 18 candidates while Fatepura in Dahod district has just three -- the least number.
The Election Commission said 23,318 electronic voting machines will be used in as many polling stations, with 10,126 of them dubbed "critical" -- an official euphemism to mean they could witness disturbances or violence.
Abdasa is the largest assembly constituency (area wise) with 6,278 sq km territory and Ghatlodia has the most number of voters (285,998).
Among the constituencies that will see polling Monday are Ellisbridge, where slain BJP leader Haren Pandya's widow Jagruti is contesting against the BJP, and Naranpura, where Modi's confidant Amit Shah, a former minister, is a candidate.
The millions of votes cast in the Gujarat election -- along with those of Himachal Pradesh -- will be counted Dec 20.
If the BJP wins, Modi -- who soars over the party and who has been chief minister since 2001 -- could start playing a larger national role both in the BJP and pan-India politics.
A defeat for the BJP could, however, puncture Modi's larger political ambitions and prove a great morale booster for the Congress ahead of the 2014 Lok Sabha election.