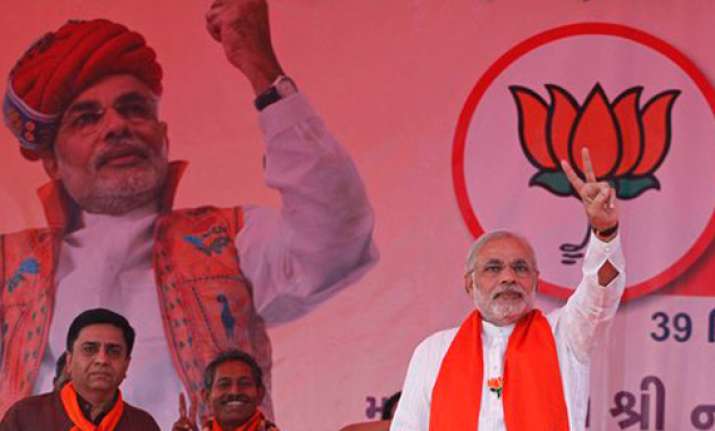 Ahmedabad, Dec 11: A decade after post-Godhra riots polarised voters on communal lines in Gujarat, Chief Minister Narendra Modi is seeking a third straight term in office largely on the development plank as he battles traditional rival Congress and a rebel BJP heavyweight bent upon upsetting his applecart.
Election 2012 in Gujarat, the laboratory of Hindutva politics, like the previous two polls, is all abut Modi and the larger than life image he has created of himself.  
Modi, Gujarat's longest serving Chief Minister, has completely dominated state's political landscape since 2002, when the communal riots that claimed over 1000 lives, mostly Muslims, brought him disrepute but created a personality cult around him.
However, the near complete absence of emotive communal issue, coupled with the launch of Gujarat Parivartan Party (GPP) by Keshubhai Patel and the anti-incumbency factor may put hurdles in his pursuit of power for an unprecedented third term in a row.
Emergence of Keshubhai, Modi's predecessor and a highly respected leader of the politically powerful Patel community, a traditional votebank of the BJP, on the electoral scene, has raised hopes in the Congress of making a comeback as it expects GPP to eat into saffron party's votes, particularly in the Kutch/Saurashtra region, which sends 58 MLAs to the 182-member legislative assembly.