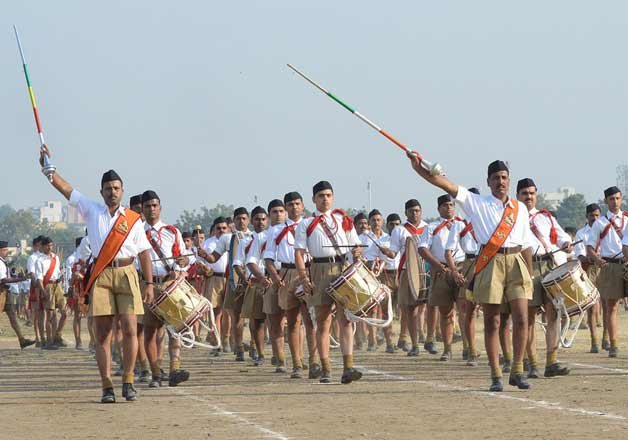 New Delhi: The Chhattisgarh government has issued a notification that allows government servants to join RSS and participate in its activities.
Earlier, The Chhattisgarh Civil Services (Conduct) Rules 1965 had prohibited a government servant from taking part in politics. "No government servant shall be member of, or be otherwise associated with, any political party or any organisation which takes part in politics nor shall he take part in, subscribe in aid of, or assist in any other manner, any political movement or activity," it said.
The state government has revoked this ban, which was imposed during undivided Madhya Pradesh, barring government employees from participating in RSS's activities, Special Secretary, General Administration Department, DD Singh told PTI.
The order in this connection was issued by the department last week. However, the state government, in a notification dated February 23, with the subject line "regarding participation of government servants in activities of RSS", said that "as far as Rule 5(1) of Chhattisgarh Civil Services (Conduct) Rules 1965 is concerned, its restriction does not apply to RSS".
The notification was signed by Additional Secretary (General Administration Department) K R Mishra, and copies were marked to almost all major government officer-bearers in the state, including Principal Secretary to Governor; Chief Minister's Office; Principal Secretary, Vidhan Sabha Secretariat; Registrar General, High Court; Public Service Commission; Human Rights Commission; Lok Ayog; Information Commission and all collectors and divisional commissioners.
Opposing the notification, the Congress termed it as "politicisation of administration". "It is an unconstitutional move with clear political colours. It will indoctrinate government servants. They will go to shakhas and will no longer remain impartial," said former chief minister Ajit Jogi.
Welcoming the move, the RSS claimed that it was not a political organisation. "This rule was made by the British but still continues. This government has done a good thing. The RSS is not a political party, we are a social organisation," said Deepak Vispute, RSS's Chhattisgarh Sar Sanghchalak.