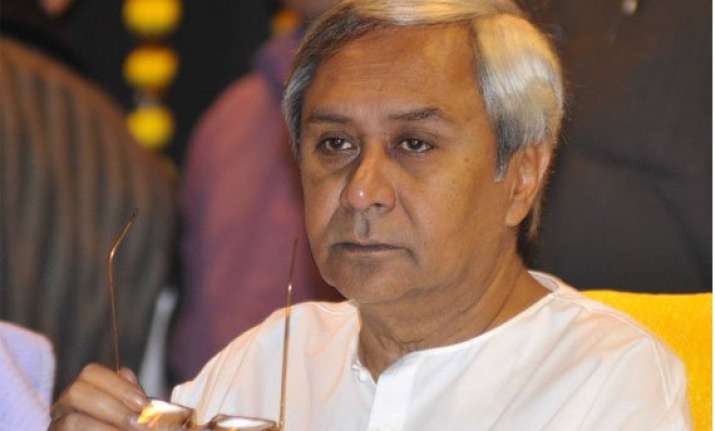 Bhubaneswar: With IMD predicting movement of a possible cyclonic storm towards Odisha coast, Chief Minister Naveen Patnaik today said the state government is fully prepared for the possible eventuality.
"The government is prepared for the possible cyclonic storm," Patnaik said on his return from New Delhi. 
The state govenrment has cancelled leaves of its employees and put 16 coastal districts on alert besides asking Odisha Disaster Rapid Action Force (ODRAF) and fire service personnel to be ready for the emerging situation.  
The government also asked district authorities to open round-the-clock control room to coordinate with different departments.
Meanwhile, Odisha Government today braced for relief and rehabilitation in the affected southern districts where its damaged houses and uprooted trees even as heavy rainfall was expected to lash these areas.
 
While three persons died in Odisha due to the very severe cyclonic storm that made a landfall near Visakhapatnam in neighbouring Andhra Pradesh, damage caused by the calamity would be assessed soon, Special Relief Commissioner (SRC) P K Mohapatra said.
As a precautionary measure, around 2.33 lakh people had been evacuated from vulnerable areas to safe places in ten districts in view of Hudhud though the intensity of the cyclone was not very fierce, he said.
Stating that uprooting of trees and damage to thatched houses were reported from some of the southern districts, the SRC said immediate step had been taken for clearance of roads blocked due to uprooted trees and other objects.
 
Rains accompanied by gusty wind continued in several parts of south Odisha including Malkangiri district and officials said the wind speed would gradually decrease.
 
As the cyclonic storm moved away from the state and proceeded north-westwards continuing to lose steam gradually, rain and thundershower was expected at most places over Odisha till tomorrow, IMD centre here said.
 
The met office forecast heavy to very heavy rainfall at one or two places in districts of North Odisha during next 12 and heavy to very heavy rainfall at a few places in districts of North Odisha in subsequent 24 hours.  
The deceased were identified as Puja Mallick (6) and Hemant Mallick (11) of Magarkanda village in Kendrapara district and 42-year-old fisherman Sudulu Goraya of Penthakata in Puri district, Mohapatra said.
Mohapatra said that there has not been much damage so far in the storm but scores of trees and electricity poles had been knocked over in Potangi area of Koraput district as the system passed through the region after making landfall near Visakhapatnam.
The SRC said the state government had to make special efforts to get the tribal people, mostly from the Bonda and Didia communities in Malkangiri, to leave their dwellings and move to safety.
As most of the southern region received heavy to medium rainfall, the state government had made preparations for any possible floods in rivers like Bansadhara and Rusikulya.
However, the water level in the two rivers was below danger levels, officials said.