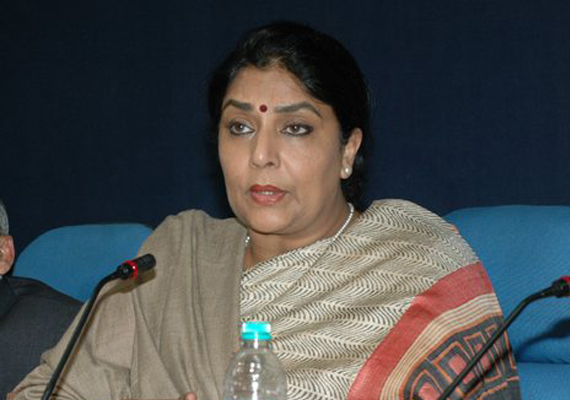 New Delhi, Sep 17: The Congress Tuesday said "negotiations" were being held with its allies in UPA over their opposition to government's recent economic decisions including FDI in multibrand retail and hoped there will be no parting of ways with the Trinamool Congress.
Congress spokesperson Renuka Chowdhury told media persons here that the party was hopeful of allies will "continue to be with us". She did not rule out the possibility of a rollback of the decisions.
"We remain optimistic. (We) appreciate her (Trinamool chief Mamata Banerjee's) complusions. We remain hopeful," Chowdhury said.
The Trinamool Congress, which is part of United Progressive Alliance (UPA) government, had Friday given a 72-hour to the central government to withdraw its decisions of hiking diesel price, capping supply of subsidised cooking gas cylinders and introducing FDI in multi-brand retail and had spoken of the possibilty of a "hard decision" if its demands were not met.
The party's parliamentary board is likely to meet Tuesday to take a final decision on its demands.
Congress ally DMK and the Samajwadi Party, which supports the government from outside, have also opposed the decision on FDI in retail.
Chowdhury said said the government was talking to the allies and the party was hopeful of working out a "working relationship" over their stance to its recent economic decisions.
"It is the business of the government to have conversation with allies...We are hopeful will be able to work out working relationship."
"Negotiations are on. Not wise for me to comment," she added.
Chowdhury said the Congress appreciates the complusions of its allies and expects them to understand its compulsions.
Asked if there would be rollback, Chowdhury said she was not competent to comment on it "at this juncture."
To a query about party's contingency plans if Trinamool does indeed pull out of the government, she said party managers would be working on alternate plans.
"Party managers would be working on all options Plan A/Plan B onwards," she said.
Chowdhury said the government, at present, was not facing a threat and all parties should be concerned about the progress of the country.
Congress leaders said in private conversations that Banerjee was unlikely to withdraw support to the UPA government. They said Trinamool leaders are likely to press with her that it would be easier to seek liberal central assistance for West Bengal by being part of the central government than being outside it.