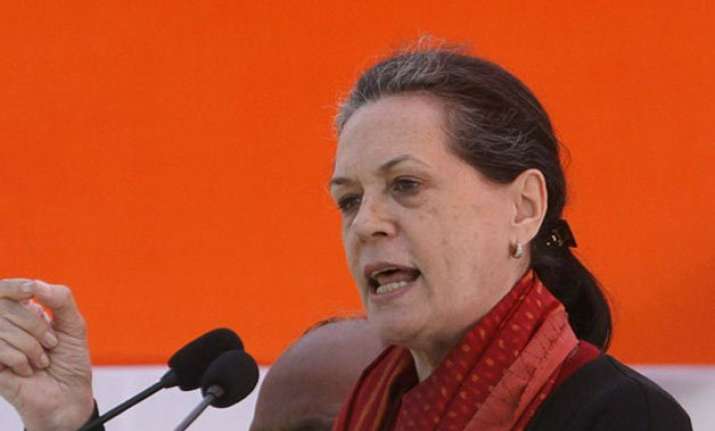 New Delhi: Taking a tough stand against repeated disruptions, Lok Sabha Speaker Sumitra Mahajan today suspended 25 Congress MPs from Lok Sabha for 5 days.
The Speaker took this decision after her repeated requests to Congress MPs for not showing placards or jumping into well went unheard.
Live Updates:
* It's a black day for democracy: Sonia Gandhi on Congress MPs suspension
* This Govt is undermining the role of the opposition parties inside the house: GN Azad
* The route adopted by Govt for past few days is undemocratic. This Govt wants to treat opposistion parties like slaves: GN Azad
* This is a sad day, not for Congress. Congress alone is not sad. The democracy should be sad :Ghulam Nabi Azad on Cong MPs suspension
* I think PM wants to take sadistic satisfaction.In the parliamentary pratice, its a black day: Veerappa Moily on Cong MPs suspension
A black day for democracy: Sonia on suspension of 25 Cong MPs
* NCP ne bhi ye faisla kiya hai ki Congress ko samarthan denge aur sadan ka bahiskaar karenge (NCP has decided to back Congress and boycott the Parliament): Tariq Anwar, NCP on Cong MPs suspension
* We're not in majority but still we have proved it, this is democracy. We can't go inside Parliament, but can protest outside: Ranjeet Ranjan, suspended Congress MP
* Hum Government se majboor ho kar rahe hain, aage kya hota hai wo Government par nirbhar karta hai: Sushmita Dev, suspended Congress MP
* Jab house disorder hota hai, uchit hota ki house ko pehle order me laya jaye: Sushmita Dev
* Sumitra Mahajan "Tai" an otherwise old School BJP/ Jan Sangh Leader how she has taken such a decision? I am surprised. Is she under pressure: Digvijaya Singh, Congress on MPs suspension
* This is the basic difference between Democratic Leaders and a Dictator. Basic difference between Atal ji and Modi. ACHHE DIN AA GAYE!, tweets Digvijaya Singh
Parliament logjam: No breakthrough in all-party meeting
* I don't want to criticize Speaker, we respect democratic process and institutions, but we're hurt: Mallikarjun Kharge on Cong MPs suspension
* Government should be reaching out to the opposition rather than throwing it out of the house: Shashi Tharoor on Cong MPs suspension
* I was in a meeting called by minister Javadekar when news reached me, I immediately got up in protest and walked out of the meeting: S Tharoor
* This message is for everyone, everyone has to go by rules: Sumitra Mahajan, Speaker  on Congress MPs suspension
* Mai 8 din se iss baat ko sehen kar rahi thi. Hadh toh ye hogayi ki Speaker ke saamne placard laaye jaa rahe the (I've been tolerating this for eight days. They crossed the limit by coming in front of the speaker with placards): Sumitra Mahajan
Speaker Sumitra Mahajan suspends 25 Congress members of Lok Sabha for five days
* Maine baar baar ye koshish ki thi ki ye placards band karu, kahi na kahi achi shuruaat karun (I tried several times to stop the display of placards in the house) :Sumitra Mahajan
* Mera kaam ye dekhna hai ki sadan suchaaru roop se chale (My job is to ensure smooth functioning of house): Sumitra Mahajan, Speaker on Congress MPs suspension
* Showing placards or raising slogans is not new for the house. It has been there: Mallikarjun Kharge, Congress leader in Lok Sabha
* Aam Aadmi Party to boycott Lok Sabha for five days to show solidarity with suspended Congress members
Never made any request to UK govt for Lalit Modi's travel documents: Sushma Swaraj
* Sudeep banerjee also made a request, we're also supporting Congress, boycotting decision of speaker: Kalyan Banerjee, TMC on Cong MPs suspension
* TMC express solidarity with Congress; says will boycott Lok Sabha for five days
* We are boycotting Speaker's decision. We are supporting Cong on this issue: Kalyan Banerjee, TMC on Congress MPs suspension
* She (Speaker) is guardian of Parliament; her foul actions send a wrong message. We will protest for five days: Ninong Ering on suspension
* Madam ne kaha hum zyada placard dikhate hain, aap dekh sakte hain LS TV par, nhi dikahaya (Madam said we display placards too much, you can see on LS TV we did not): Ninong Ering on suspension
* In the last two decades, I have not seen such a thing. The voice of opposition is being muzzled: Rajeev Shukla
* This is the most undemocratic thing which has been done today: Rajeev Shukla, Congress on Congress MPs suspension
* Suspended MPs are- BN Chandrappa, Santokh Singh Chaudhary, Abu Hasem Khan Choudhury, Sushmita Dev, Ninong Ering, Gaurav Gogoi, Sukender Reddy Gutha, Deepender Singh Hooda, Suresh Kodikurnnil, SP Muddahanumegowda,  Abhijit Mukherjee,  Ramachandran Mullappally, K H Muniyappa, BV Nayak,  Rangaswamy Dhruvanarayana,  M. K. Raghavan, Vincent H Pala, MK Raghavan, Ranjeet Ranjan, C L Ruala, Tamradhwaj Sahu, Rajeev Shankarrao Satav, Ravneet Singh, Doddaalahalli Kempegowda Suresh, KC Venugopal, Thokchom Meinya
* Lok Sabha speaker Sumitra Mahajan suspends 27 members from the house for displaying placards.
* Lok Sabha adjourned till 11 AM tomorrow
* As far as present initiatives are concerned to end this stalemate, best way is to start debate. Let ministers respond: Venkaiah Naidu
* In last session I went to Sonia ji's house to request her to extend cooperation running the house in proper & smooth manner: Venkaiah Naidu
* Govt is ready to discuss every issue, and Govt has made every effort to reach out the opposition: Venkaiah Naidu
* Rajya Sabha adjourned till tomorrow
* Government says no question of resignation
* Our ministers have done nothing wrong. No comparison between acts of NDA ministers and UPA ministers: Venkaiah Naidu
* All we have asked for is, resignations should be given and PM must answer: Renuka Chowdhury, Congress leader
* Rajya Sabha adjourned till 2 PM after uproar by Congress over Lalitgate, other issues
* All party meeting underway in Parliament
* No work no pay should be implemented, but ways should also be found out to ensure smooth functioning of Parliament: BC Khanduri, BJP
* PM Modi not to be present at the all-party meet
* Lok Sabha adjourned till 2PM
* Rahul Gandhi's statement on EAM Sushma Swaraj was very immature & unfortunate: Nitin Gadkari
* Congress not letting the House to function smoothly, Vyapam case subjudice in court: Nitin Gadkari
* PM Modi will only intervene when House agrees to discuss the contentious issues, debate must start first, only then PM will speak: Sources
* Question Hour begins in Lok Sabha, Congress members shouting slogans of "We Want Justice"
* LS Speaker Sumitra Mahajan rejects Adjournment Motion notices given by Congress members
* Congress leader Ghulam Nabi Azad writes to Union Minister Venkaiah Naidu saying specific points need to be discussed during all-party meeting
* Rajya Sabha adjourned till noon after Congress uproar over Lalit Modi, Vyapam issues
* Allegations levelled against me are baseless: Sushma Swaraj
* Did not request British government for travel documents for Lalit Modi: EAM Sushma Swaraj in Rajya Sabha
* We're willing to discuss each & every issue in Parliament,  we have called all-party meet, lets see what happens: Rajnath Singh
* PM Modi's meet with senior NDA Ministers begins, Union Ministers Rajnath Singh, Sushma Swaraj, Arun Jaitley & Venkaiah Naidu present
* We want Parl to function, Govt willing to discuss each & every issue, concerned Ministers will respond also: Venkaiah Naidu
* PM Narendra Modi may intervene in Parliament, if required: Union Parliamentary Affairs Minister Venkaiah Naidu
* Prime Minister Narendra Modi meeting senior ministers ahead of the meeting of major parties in Parliament to break the logjam
* PM has turned out to be a master repackager, a skillful salesman, a sharp headline grabber and a clever news manager: Sonia Gandhi
* The PM has been very free with his promises yet he seems totally incapable of delivering on them: Sonia Gandhi at CPP meet
* We are raising very important issue with strong evidence, but government is unwilling to take action in this regard: Sonia Gandhi at Congress Parliamentary Party meet.
* Government using numerical strength as a sources of arrogance rather than responsibility, trying to substitute investigation by mere discussion. This is unacceptable: Sonia Gandhi
* Our stand is clear, the way corruption has happened we want resignations, says Congress vice-president Rahul Gandhi
* The 'Mann ki Baat' man appears to retreat into a 'Maun Vrat' whenever there is a scandal involving his colleagues: Sonia Gandhi
* Congress PCC meeting ends
* Won't let Parliament function until the demands raised by opposition are met: Congress sources during CPP meeting
* Congress Parliamentary Party meeting begins
* Congress must understand they are not only stalling Parliament proceedings but are creating hindrance in progress of nation: MA Naqvi (MoS Parliament Affairs)
* After meeting between NDA ministers and PM Modi, proposal to carry on discussions in Parliament will be brought forward at 12 PM all-party meet
* Top NDA ministers and PM Modi to meet in Parliament at 10:30AM, to discuss strategy and likelihood of PM Modi's intervention
The opposition has demanded that Swaraj and Rajasthan Chief Minister Raje resign for their alleged role in Lalit Modi controversy and Madhya Pradesh CM Chouhan quit over the Vyapam scam.
The Opposition including the Congress and the Left parties have taken a line of 'no resignation, no discussion'.
On the other hand, the BJP leaders and ministers are making it loud and clear that there will be no resignation and government is not going to oblige the Opposition.
Government has offered a reply by External Affairs Minister Sushma Swaraj in the Parliament and is ready to discuss Lalit Modi controversy. On Vyapam scam, the government has dubbed it a state issue.
Reports also say that the government is willing to offer an intervention by Prime Minister Narendra Modi during a discussion on the Lalitgate and Vyapam issues
The Monsoon Session of the Parliament, which will conclude on August 13, has not transacted any business.
"If a debate is allowed to take place and if there is a need to do so, the Prime Minister will be prepared to make an intervention. He has done so in the past and can do so now as well," Parliamentary Affairs Minister M Venkaiah Naidu said.
Today's all-party meeting may not see a breakthrough as the Congress is likely to fine tune its strategy at a meeting of the Congress Parliamentary Party (CPP), which will be addressed by party chief Sonia Gandhi.
The CPP general body meeting will be held hours before the all-party meet at a time when the government and the BJP are giving no indication of accepting its demand for resignations of Sushma Swaraj, Vasundhara Raje and Shivraj Singh Chouhan.
Leader of the Opposition in Rajya Sabha Ghulam Nabi Azad has made it clear that the all-party meeting should be based on what action is taken against Swaraj, Raje and Chouhan.
"It (the three BJP leaders' fate) should be on the agenda for the discussions," Azad has said.
Congress has also made it clear that its participation in an all-party meeting to break the deadlock depended on a tangible proposal from the Prime Minister on the Opposition's demands.
At the CPP meeting, the Congress president is expected to make the party's stand on these issues all the more clear and also hit out at the government on farmers' issues.
This will be the first meeting of the CPP general body in the Monsoon session, which has seen an aggressive Congress seeking to corner the government on corruption issue.
CPI(M) has also blamed the BJP-led government for disrupting the House, accusing it of trying to escape from accountability behind the veil of conducting a "debate for debate's sake".