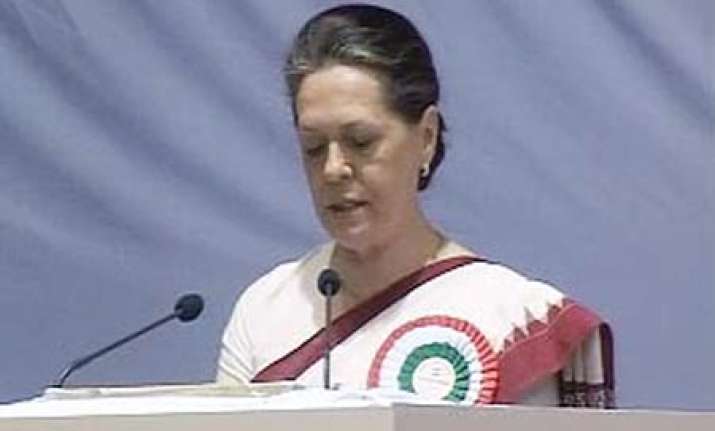 New Delhi, Nov 2 (PTI) Observing that a "new situation" has emerged in Jammu and Kashmir, Congress President Sonia Gandhi today described the recent unrest in the state as "painful" and appealed to all "disatisfied" sections to give peace a chance so that their future could be built.
She said the government was keen on a "meaningful political dialogue" with all political parties and regions of the state for which the interlocutors have been appointed."We are faced with a new situation in Jammu and Kashmir . The events of the last few months were painful," Gandhi said addressing the AICC session here.
Gandhi expressed anguish at the loss of young lives in Kashmir . "I share their grief. Their loss is national loss. The whole generation has seen nothing but violence and conflict," she said.
She urged all those who are "dissatisfied" in Jammu and Kashmir with the government to trust the government and "give peace a chance and enable us to build future for the next generation".She said priority should be given to development of the state.
During her inaugural speech at the AICC meet where she was authorised to nominate entire Congress Working Group, Gandhi talked aobut a range of issues like naxalism, price rise, Ayodhya judgement, Mumbai terror attack.She, however, skirted the raging scandals related to Mumbai's Adarsh Housing Society and Commonwealth Games.
In the Adarsh Society scam, Congress-led goverment, including Chief Minister Ashok Chavan, are facing allegations of irregularities.PTI