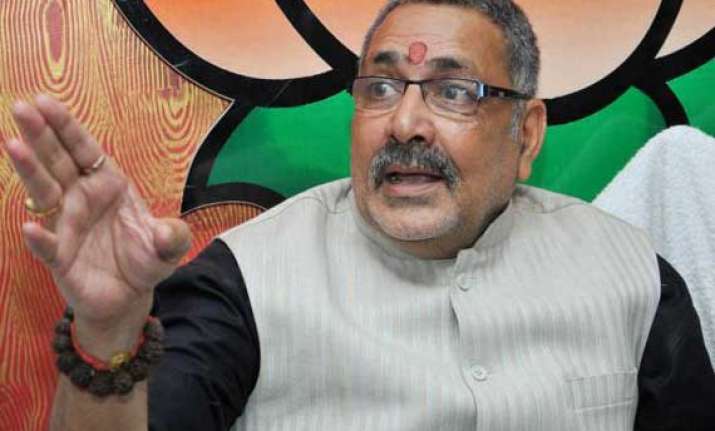 Patna: In remarks that might land him in fresh trouble, BJP leader Giriraj Singh today questioned the impartiality of the Election Commission saying that different yardsticks were being adopted for model code violations.  
"I regret to say that the EC's handling of the model code violation cases has left a lot to be desired as it has been seen to have acted differently in similar cases model code violation by leaders of different political parties," he told reporters.
Singh claimed that the poll panel booked BJP prime ministerial candidate Narendra Modi for displaying the party symbol after voting, while Congress Vice-President Rahul Gandhi was let off for allegedly trying to influence voters at a polling station in Amethi.
He said that the EC was yet to act against Uttar Pradesh Chief Minister Akhilesh Yadav and the SP supremo Mulayam Singh Yadav after stickers with photographs of the the two leaders were found on a laptop at a polling station in Chandauli district.
"It is unfortunate that the EC has allowed its impartiality to come under scanner in the ongoing general elections," Singh said and recalled that it had taken decades to build the credibility of the institution starting with the then poll panel chief T.N. Seshan in 1990s.  
Seshan's successors too had worked hard to enhance the EC's credibility over the years, but unfortunately the same could not be said about incumbent poll panel which was not seen to be acting in an impartial manner, the BJP leader said.  Known for courting controversy, Singh was recently booked by the poll panel for his controversial remarks that critics of Narendra Modi had no place in India and should go to Pakistan.
Singh had contested on BJP ticket from the Nawada parliamentary seat on April 10.