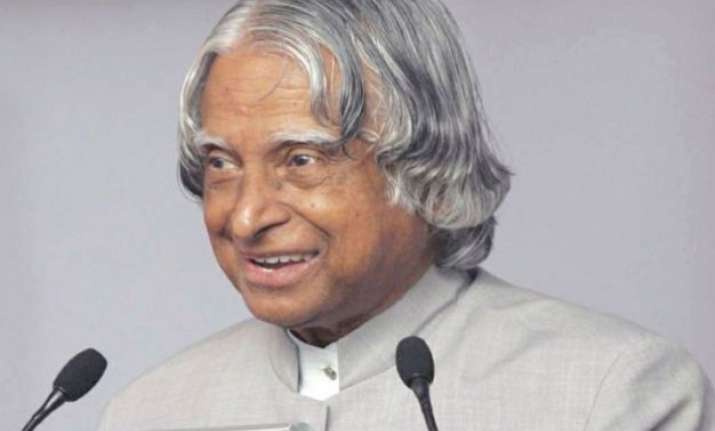 New Delhi:  Leaders cutting across the political spectrum tonight paid glowing tributes to former President A P J Abdul Kalam with President Pranab Mukherjee and Prime Minister Narendra Modi describing him as a "people's President" and an "inspirational leader" who dedicated his entire life to the nation.
As the news of Kalam broke, condolences and tributes poured in from all corners of the country, reflecting the huge popularity he enjoyed both in and out of the highest office of the country that earned him the sobriquet of the "people's
President."
Mukherjee, in a condolence message, said that "in Kalam's passing away, we have lost a great son of India who dedicated his entire life for the welfare of the motherland and its people.
 
"Dr Kalam was a people's President during his lifetime and will remain so even after his death," he said.
 
He said Kalam will be remembered for his passion for science and innovations and his contributions as an eminent scientist, administrator, educationist and writer.
His achievements as leader of India's defence research vastly enhanced the safety and security of of the nation, Mukherjee said.
Modi said that in Kalam's death he has lost a "marg darshak" who was a source of inspiration for the entire country, particularly for the youth.
Recalling Kalam's immense contribution in the field of science and technology, particularly space science, Modi said "India mourns the loss of a great scientist, a wonderful President & above all an inspiring individual."
 
"In my perosnal life, he was a fine and senior guide (margdarshak). I got an opprtunity to work very closely to him. In my personal life, I have lost a best guide. The country has lost a son who worked to make country a strong nation. He gave his every moment to make India's youth strong and self-reliant," he said.
Describing Kalam as "one of the greatest scientific minds, a scholar statesman and a true patriot who inspired millions of young and old alike by his works and deeds, Congress President Sonia Gandhi said his "contribution to our polity will remain unparalleled."
"Kalam inspired millions in the country and abroad and he even breathed his last while infusing a new zeal to young Indians in the course of his last address to IIM students.
 
Indian National Congress stands with the entire nation in condoling Dr Kalam's death," Gandhi said.
Expressing grief at Kalam's death, Congress Vice President Rahul Gandhi termed him as "a man of many parts-he won over the hearts and minds of a nation with his warmth and wisdom."
Noted NRI industrialist Lord Swraj Paul described Kalam  as an "inspiring figure" and a "great humanitarian".
Expressing his condolences, Lord Paul, Chairman of Caparo Group, the UK-based diversified conglomerate, also described Kalam as a "great President" and a hugely popular leader.
Senior Congress leader and former Union Minister P Chidambaram tweeted "the whole nation mourns the passing away of former President Dr Abdul Kalam.
I join all Indians in expressing our deep sense of grief."
 
"I pay tribute to the life and work of former President Dr Kalam as a teacher, a scientist, a team leader, and above all as a great human being," he said.
Condoling the death, Pattali Makkal Katchi (PMK) chief Ramadoss said Kalam will continue to live on forever through his contributions to society.
Tamil Nadu Congress Committee chief E V K S Elangovan said Kalam dedicated his life in the service of the nation. "His death is an irreparable loss to the nation," he said.