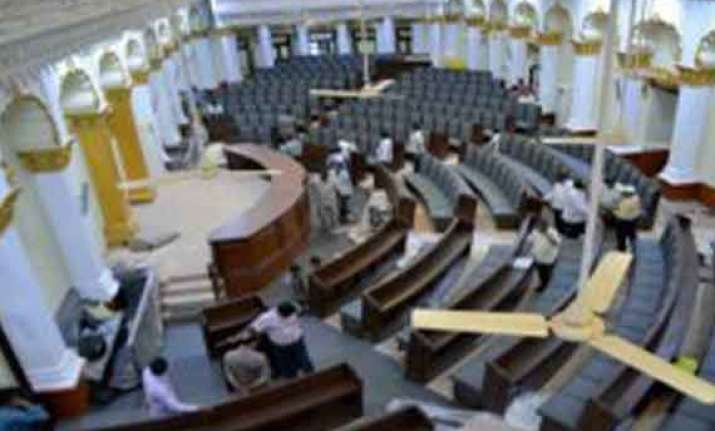 Hyderabad: The first session of the Andhra Pradesh assembly began here Thursday with the legislators taking oath on the first day.
Chief Minister N. Chandrababu Naidu was the first to take oath as member of the assembly, followed by YSR Congress leader Y.S. Jaganmohan Reddy, deputy chief ministers K.E. Krishna Murthy, N. Chinnarajappa and other ministers.
Earlier, senior legislator P. Narayanaswamy Naidu took oath as the pro-tem speaker. Governor E.S.L. Narasimhan administered him the oath at Raj Bhavan.
This is the first session of Andhra Pradesh assembly after the state was bifurcated to carve out a separate Telangana state.
As Hyderabad has been declared common capital for 10 years, the two states are sharing the existing infrastructure at the state assembly, secretariat and other key offices.
Telangana assembly was allotted the existing assembly building of the undivided state, and the Andhra Pradesh assembly is meeting in the old assembly building in the same premises.
The Andhra Pradesh assembly began its session a couple of days after the first session of Telangana assembly ended.
Tight security arrangements have been made for the session. Director General of Police J.V. Ramudu said about 1,200 policemen were deployed.
The house will elect the speaker and deputy speaker Friday. The governor will address the joint sitting of the Legislative Council and the Legislative Assembly June 21. The house will take up debate on motion of thanks to the governor's address June 23 and 24.
In the recent election to the 175-member state assembly, the Telugu Desam Party (TDP) won 102 seats while its ally Bharatiya Janata Party (BJP) bagged four seats. The YSR Congress Party (YSRCP) won 67 seats.
The Congress party has no representation in the assembly as the party drew a blank in both the assembly and the Lok Sabha elections.