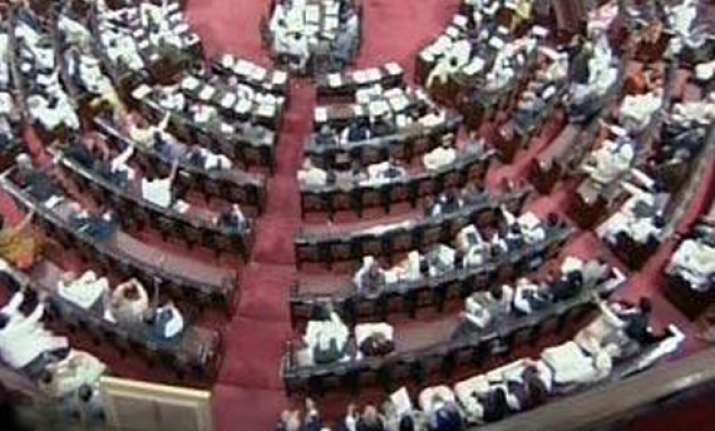 New Delhi, Dec 7: FDI in multi-brand retail today got the approval of both houses of Parliament. The Rajya Sabha today rejected the motion brought by the Opposition to disallow FDI multi-brand retail by  123 votes to 109, after Samajwadi Party members walked out minutes before the voting began. BSP members led by Mayawati voted against the Opposition motion.
Earlier, replying to the two day long debate, the mover of the motion AIADMK's Dr V Maithreyan said, the motion may well be rejected, but the final vote will be cast by the people of the country in the 2014 polls.
"I can assured you, after the 2014 elections, the new government will reverse this decision on FDi", Maitreyan said.  
Commerce Minister Anand Sharma strongly defended the government's decision and blamed the BJP for creating a "scare" throughout the country on the FDI issue. 
"You scare the entire world by opposing FDI. Those who live in glass houses should not throw stones", Sharma told Arun Jaitley.  
Earlier the House witnessed pandemonium during Sharma's reply, when the minister quoted from the N K Singh Committee's report recommending FDI  in food retail during NDA rule.  
As N K Singh, now in Janata Dal-United, rose to give his clarification, the minister said, he would not yield, and the deputy chairman P J Kurien asked N K Singh to give his clarification later, as per rules.  
BJP members stood up and created a ruckus, forcing the deputy chairman to adjourn the House till 2:30 pm. 
After the House reassembled, N K Singh gave his explanation saying the report should be read in its entirety and his committee had not recommended FDI in multi-brand retail. 
As the Prime Minister Manmohan sat silently throughout the entire debate and the ensuing pandemonium, Anand Sharma sought to reject the Opposition's charges that FDI in multi-brand retail would destroy the indigenous retail trade.  
Sharma said, the BJP and the Left were trying to "scare" the people on the FDI issue. "I personally went to state capitals and met 14 chief ministers, out of which 11 states accepted FDI in multi-brand retail" he said.  
Here is the summary of today's live reporting of the debate followed by voting:  
3:17 pm: 
Chairman Hamid Ansari announces, "subject to correction, the motion is negatived by 123 votes against and 109 votes in favour" 
3:06 pm:
Division bell rings again. This time the voting machine functions, and slips are taken from members who have voted incorrectly,.  
2:55 pm:
Division bell rings. The voting machine malfunctions.  
2:47 pm:
The mover of the resolution Dr V Maithreyan said, the battle is not over even if the government wins. "The final vote will be cast by the people of this country in the 2014 elections", he said,.  
2:45 pm:
Samajwadi Party members stage walk out making it easier for the government to win the vote.  
2:30 pm:
House reassembles. N K Singh gives his explanation. Anand Sharma challenges Arun Jaitley to contest from Kapil Sibal's Chandni Chowk constituency in Delhi, if he was so much confident about people's anger over FDI.
"Do not teach us Gandhiji's philosophy and Swadesh. We have inherited the Gandhi-Nehru legacy", he said.  
1:14 pm:
As BJP members continued the din, the deputy chairman adjourned the house till 2:30 pm.  
1:01 pm:
Sharma reads out the N K Singh Committee report submitted during NDA rule, in which the committee has said that FDI would bring about an effective supply system and it will help farmers and consumers. "This was the recommendation, not a discussion paper", he said.  N K Singh rose up with the report in his hands and tried to countered, but Sharma said, he was not going to yield.  The deputy chairman did not allow N K Singh to speak saying, as per rules, he can't reply if the minister was not yielding, and if his name was taken, there were rules for him to place his explanation later. Amidst the din, N K Singh read out portions from his report which could not be heard, and the BJP members thumped their desks.  
12:36:
Anand Sharma rejected Arun Jaitley's charge that the Agriculture Minister Sharad Pawar had disputed the figures of wastage of food and vegetable produces. When Jaitley objected, Sharma said, Pawar will himself come to the House and explain. Jaitley : "On the quatum of wastage, there can't be two versions. Kindly tell us the correct version." 
Sharma says the BJP and the Left are "scaring" the people by saying that even the carpenters will lose their jobs once FDI comes in. "By saying that we will be turning India into a nation of salesboys and salesgirls, you are insulting the poor youths. Please don't send them a wrong message", Sharma told Jaitley. 
12:13 pm: Commerce Minister Anand Sharma rose up to intervene in the debate. Sharma said, I personally went to state capitals and consulted with 14 chief ministers on FDI in retail issue.  Most of the farmers and consumers groups are supporting our decision, he claimed. 
12:02 pm: 
Amar Singh, expelled from Samajwadi Party, congratulates Mayawati for supporting FDI in retail. "When Mayawati was with you and the Left in opposing nuclear deal, it was okay, when she supported FDi in retail, you say, she did it out of fear of CBI. This political duplicity won't work".  
11:53 am: 
Lok Jan Shakti Party chief Ramvilas Paswan supported FDI in retail. "Our India is mahaan (great), no 'mai ka laal' (man worth his salt) can buy our nation", he says. "NDA in the beginning worked well, but you lost in 2004 because of Gujarat riots. You lost in 2009 because of opposition to Indo-US nuclear deal. You are opposing this because of political motives", he said.  
11:48 am:
  Ranbir Singh Prajapati of Indian National Lok Dal says, FDI in retail will render traders unemployed in large numbers.  
11:45 am:
Biswajit Daimary of Bodoland People's Front wholeheartedly supports FDI in retail saying "there is nothing to fear". 
11:40 am:
Kumar Deepak Das of Asom Gana Parishad says: "Why are you inviting multinationals for retail when it requires only Rs 10,000 cr. Govt can easily provided this amount and we can boost up retail trade". 
11:33 am:
CPI's D. Raja stood up.  "Three big myths are being created by this govt on FDI in retail - it will generate employment, it will help farmers and consumers. All these three are myths and do no stand out from facts", he said.  
11:24 am:
Trinamool Congress' Sukhendu Shekhar Roy said FDI is "foreign direct interference". "This govt is working under the dictates of White House and we won't allow that. This govt has totally surrendered to crony capitalism", he thundered.  
11:20 am:
Janata Dal-United member Shivanand Tiwari  pointed out that all the top economic advisers of the govt - Montek Singh Ahluwalia, Raghuram Rajan and Kaushik Basu - had links with the IMF and World Bank. "This portends danger for our economy, our political system, our social system and our culture", he says.  
11 am:
House leaves aside Question Hour and resumes debate on FDI.  BJP's Shanta Kumar  points out the pitfalls of FDI in pharma sector. "Today almost all medicines have become costlier, and you should learn from that. Is the government allowing FDI in retail under pressure?", he asked.