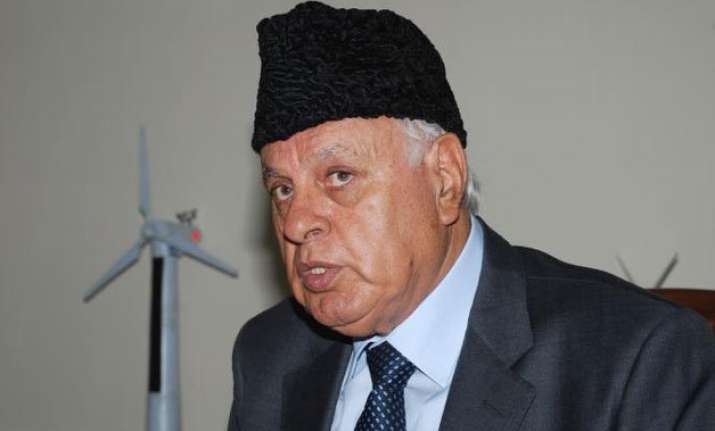 Jammu: Dismissing the demand by separatists to curtail the duration of Amarnath Yatra, National Conference President Farooq Abdullah today said the pilgrimage should continue to be of two months as it was not only religiously important but also served as a source of livelihood for many.  
"The pilgrimage must take place for two months. Not only will people be able to have proper darshan but there are many poor people in the state whose livelihoods depend on the yatra," the former chief minister told reporters here.
"I think any restriction on the Yatra is not what I would want, it must go freely for two months," he said.
The annual yatra is scheduled to commence on July 2.
At a rally in Tral on May 1, Hurriyat leader Syed Ali Shah Geelani had demanded that the Amarnath Yatra in south Kashmir Himalayas should be restricted to 30 days for  safety" of pilgrims and protection of environment.
On the issue of Kashmiri Pandits' return to the Valley, Abdullah said that any decision taken must not create tension in the minds of the people.
"Whatever has to be done, the Pandits, Muslims, Sikhs who live in Kashmir will have to sit together and arrive at conducive way of doing it in the manner that would not create any more tension," he said.
On Prime Minister Narendra Modi's visit to China, Abdullah said, "China has its own policy...we are trying to develop better relations and now it is upto China."
On being asked if Modi's visit to China would be fruitful, he reiterated that it depends on China.  
"Whether it (Modi's visit) will achieve something or not... the success is upto God and Chinese," he said.
Abdullah said he hoped Modi will raise the issue of stapled visa with Chinese authorities. "PM should tell them to please give us a normal visa," he said.  He was referring to stapled visas issued by China for residents of J&K and Arunachal Pradesh.
Abdullah had come here to meet ailing BJP leader Chaman Lal Gupta. This was his first visit to Jammu after an organ transplant surgery in London last year.