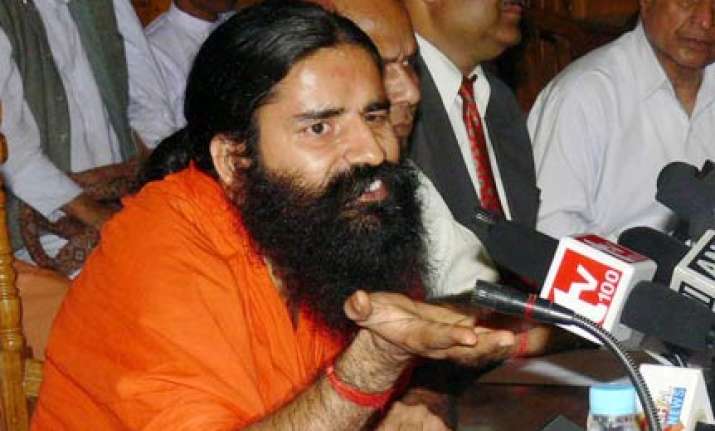 Lucknow, Oct 30: Yoga Guru Ramdev today described as unfortunate Congress leader Rahul Gandhi drawing a parallel between RSS and banned terror outfit SIMI.
"Equating RSS with SIMI is unfortunate," he told reporters here.
The Yoga Guru said, "Since the inception of RSS, none of its top leaders has been found having any link with terrorism. In fact, the organisation has done a lot for the society in various fields whether education or health."
He was reacting to Rahul's remark earlier this month that both RSS and SIMI preached "hardline fundamentalist ideologies."
Terming corruption as a political problem, Ramdev said he has lauched a campaign against the evil and feared that he might be eliminated by "people in the government" for raising his voice.
"By launching the Bharat Swabhiman campaign against corruption and in favour of Swadeshi, I have given an open invitation to death. But whether I live or not, corruption should not stay in the country. And if anything happens to me, the government will be responsible," he said.
Calling the Shunglu committee probe into alleged corruption in Commonwealth Games a "sham", Ramdev had yesterday said that he, along with a group of civil society activists including Kiran Bedi and Arvind Kerjariwal will file an FIR in the case with the Delhi Police on November 12.
He alleged that huge funds had been misutilised in the CWG projects and said Rs one lakh crore spent on the Games could have been used to set up 1,000 universities in the country.
"I had met Prime Minister Manmohan Singh and Congress leader Rahul Gandhi and gave them three solutions to root out corruption," he said.
The first solution was that the government should adopt a policy of currency recall where notes of big denominations should be taken back, the Yoga Guru said.
"Secondly, a stringent law with a provision of capital punishment should be framed. Lastly, money deposited in foreign countries should be brought back to the country," he said. PTI