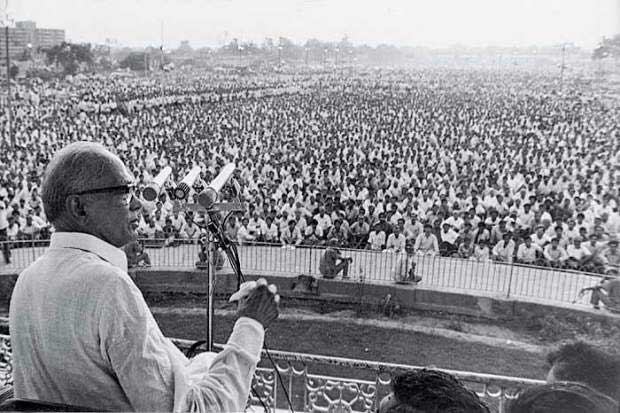 George Fernandes in shackes
The only time when Indian democracy was undermined was in 1975 when the then Indian Prime minister Indira Gandhi decided to subvert democracy and imposed internal emergency on June 25, 1975. Indira's desperation   to stick to power at any cost proved detrimental to the image of Indian democracy and that one decision of Indira Gandhi turned out to be  a blot on the otherwise excellent record of Indian democratic set up.
For 19 long months, Indians lost all privileges of a democracy. Their fundamental rights were suspended. Around 100,000 people were arrested and detained without any trial. Unfortunately, the judiciary and media, barring a few exceptions, also surrendered to the whims of the government and became totally pliant to the PM.
What led to the imposition of democracy? What was the immediate trigger?
A closer scrutiny of sequence of events suggests that Indira Gandhi took this extreme step because she wanted to stick to power – by hook or by crook – and she had the audacity to take on every institution that came in her way. Her emergence as the most charismatic Congress leader after 1969 split and the subsequent stamp of approval that she got from the electorate coupled with India's victory over Pakistan in 1971 war made Indira arrogant and she started believing that she could never be wrong and that her opponents and critics could never be right.