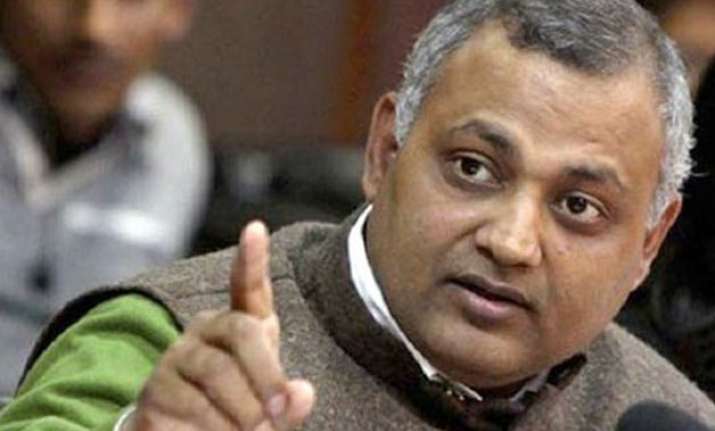 New Delhi: Jailed AAP MLA Somnath Bharti on Thursday suffered a double whammy with the Supreme Court denying him interim bail and the trial court extending his custodial interrogation by three more days in an alleged domestic violence and attempt to murder case lodged by his wife.
Hours after the apex court denied interim bail to the 41-year-old controversial MLA from Malviya Nagar and sought the presence of his wife on Monday to explore the possibility of mediation, the trial court accepted the Delhi Police demand to extend his custodial interrogation on the grounds that two days was not enough to complete his questioning.
An apex court bench, comprising Chief Justice HL Dattu and Justice Amitava Roy, denied the oral plea of Bharti's counsel and senior advocate Gopal Subramaniam for interim bail till 5 October when it will hear the issue of mediation, saying the plea has become infructuous after his surrender.
The apex court said it would await the outcome of the proceedings before the Magistrate, who ultimately did not grant relief and allowed the plea of the police that the MLA be sent for further custodial interrogation.
Bharti made allegations against the police both in the apex court as well as the trial court that the investigators did not allow him to consult his lawyer after his surrender and that he was allegedly tortured in custody.
While in the apex court Subramaniam submitted that the trial court should not have granted police custody of Bharti after he surrendered as his petition was pending, another counsel appearing for him before the magistrate took a similar line of argument to suggest that the AAP MLA should be sent to judicial custody instead of police remand.
During the hearing in the Supreme Court, which posted the matter for Monday to ascertain the stand of Bharti's wife Lipika Mitra on the issue of settling the dispute through mediation, a verbal duel was witnessed between a judge and Subramaniam.