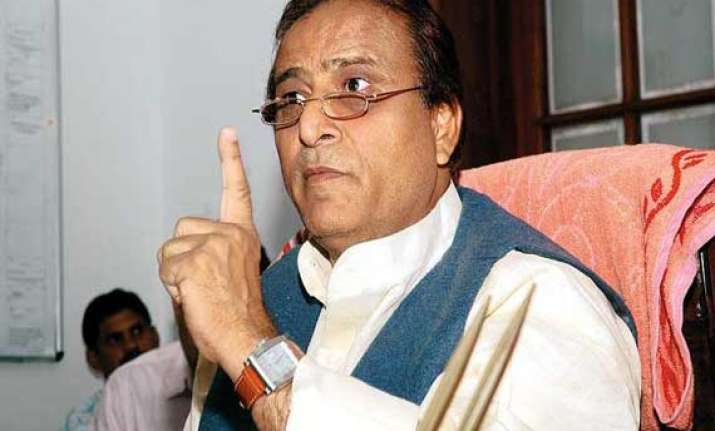 Siddarth Nagar: Uttar Pradesh Minister Azam Khan today took a dig at BJP's prime ministerial candidate Narendra Modi's attempts to play the secular card, saying if Modi was truly secular, he (Azam) should be named the prime ministerial candidate.
Modi had during an election rally yesterday in eastern Uttar Pradesh, said that Hindus and Muslims should fight poverty together.
"If Hindus fights with Muslims and Muslims fight with Hindus, what will both get? No one will be benefited. Both Hindus and Muslims have only one problem - that is poverty. We Hindus and Muslims should unitedly fight poverty," Modi had said.
Khan scoffed at the BJP leader, saying, "The talk of secularism from a person who sponsored riots in Gujarat does not look good."
"If Narendra Modi is truly secular, then he should either declare me or BJP leader Mukhtar Abbas Naqvi as Prime Ministerial candidate," Khan told reporters after his surprise visit here.
"If Modi talks about secularism, then he should have images of Kaba and Babri Masjid along with (that of) Lord Ram in his rallies," the SP leader said.
He also asked that the electorate should vote for Samajwadi Party candidate from Domariyaganj, Mata Prasad Pandey saying he was a candidate whose integrity and honesty cannot be doubted.
Khan has been barred from participation in campaign by the Election Commission for making provocative speeches.  Polling for Domariyaganj Lok Sabha seat in Uttar Pradesh will be held on May 12 in the final phase of elections.