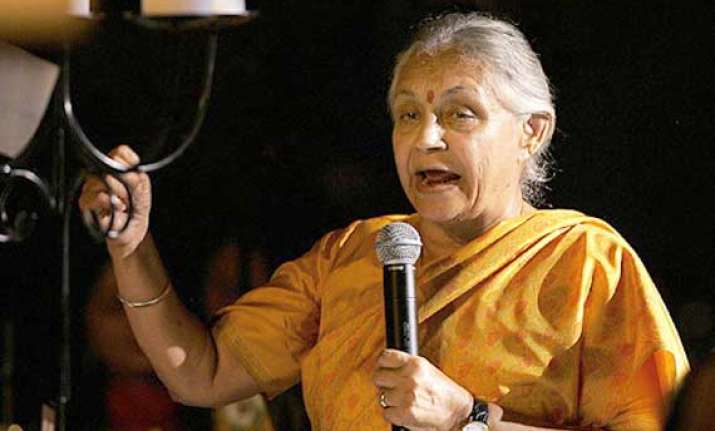 New Delhi, Dec 24:  Appealing to people agitated over a gang-rape here to maintain peace, Delhi Chief Minister Sheila Dikshit Sunday said providing security to public should take precedence over VIP security which needed pruning.
"I want to emphasise, even if there is need to cut VIP security, it should be done," Dikshit told reporters after a meeting with union Home Minister Sushilkumar Shinde.
The Delhi government has sought a "rationalisation of police deployment including VIP security deployment".
"You find very often the excuse is that there are so many VIPs so we can not look after ordinary citizens," she said.
Dikshit appeared critical of police, who are controlled by the central government, over the Dec 16 gang-rape in a moving bus, saying taht suspending some constables was not enough.
"People should be sensitised and police should also be sensitised. Police should be more sensitive and accountable," she said.
The chief minister met Shinde after chairing a special meeting of her cabinet on the incident and the situation arising out of it, including protests near India Gate over the brutal incident.
The Delhi cabinet, in a statement, said that the confidence in th law and order machinery had been shaken by the incident and steps needed to be taken for its restoration.
Reflecting the feeling, Dikshit said: "It is very sad, you announced...you suspend few cops, but as long as senior officers don't take responsibility police cannot gain people's confidence."
The Delhi cabinet sought "immediate and strict action against officials responsible".
Dikshit also said that her government had advocated death sentence for culprits in the Dec 16 gang-rape case.
"We don't say across the board death sentence should be given to rapists. It should invoke death sentence or life imprisonment if the cases are like this," she said.
"We decided this and went to home minister...he said he would look into it and also set a judicial inquiry on how such incident happened," she said.
The chief minister also asked the home minister to instruct Delhi's Lieutenant Governor Tejinder Khanna and his ministry to have prevent lapses in maintaining security.
As the law and order in Delhi is under the central home ministry, the Khanna is responsible for it.
The chief minister urged people to maintain peace.
"People must bring in calm and peace before any worthwhile step forward can be taken. Therefore, we appeal there should be peace," Dikshit said.
Among its recommendations to the home ministry, the Delhi government sought measures like increased patrolling and improved visibility of police, deployment of security personnel in public transport and fast track courts to hear cases.