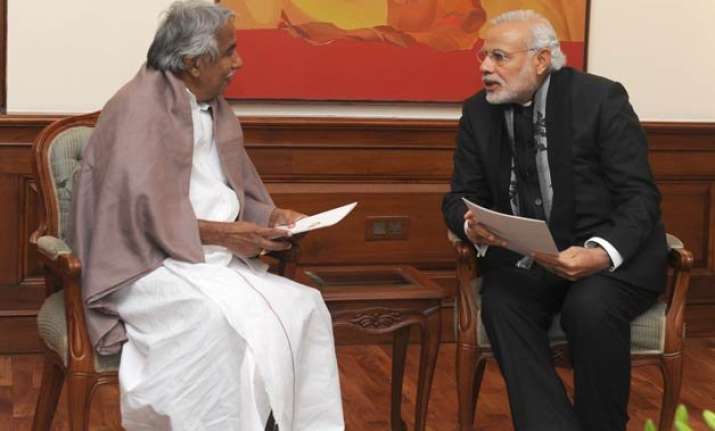 New Delhi: The Congress may have threatened to protest NDA government's Land Acquisition Bill, but most of the Congress-ruled states had in past expressed serious reservations on original Land Acquisition Act passed by the erstwhile UPA government in 2013.
In a meeting in June 2014, representatives of 32 state governments and Union Territories, had met Prime Minister Narendra Modi. They stated that the Land Acquisition Act passed by the previous UPA government makes development impossible.
ALSO READ: Congress to demonstrate against land bill today
The Congress-ruled Kerala and Karnataka governments had insisted that mandatory social impact assessment study should be made compulsory only for large projects. Kerala even said obtaining consent of land owners at the preliminary stage may pose a problem.
At the meeting, Haryana, which was ruled by Congress at that time, had also expressed reservations.
Non-Congress ruled state like Uttar Pradesh and West Bengal too had criticised the Act saying that the retrospective application of the Act is a problematic one. Now these states have joined hands with Congress in staging a protest against the NDA government's move.
ALSO READ: Land Acquisition Amendment Bill tabled in LS amid protests
In 2011, the previous Congress-NCP government in Maharashtra had red-flagged the difficulties in the draft Act to the then rural development minister Jairam Ramesh. The Prithviraj Chavan government at that time had urged the Centre to place the draft bill before committee of Chief Ministers to evolve a consensus.
This is significant as the Narendra Modi government yesterday introduced the Right to Fair Compensation and Transparency in Land Acquisition, Rehabilitation and Resettlement (Amendment) Bill, 2015 in the Lok Sabha amid protests from almost all political parties.
The ordinance to amend the Right to Fair Compensation & Transparency in Rehabilitation and Resettlement Act, 2013 came into force on January 1 and has to be passed in the Parliament in the ongoing Budget Session to be become an Act.