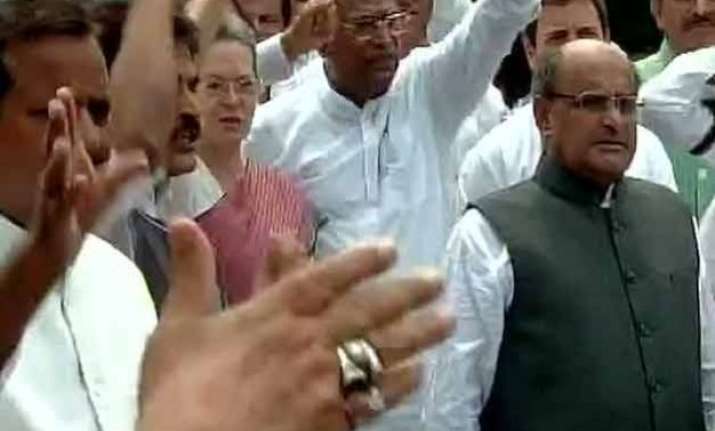 New Delhi: Congress President Sonia Gandhi today said that the protest will continue until the Lok Sabha speaker Sumitra Mahajan revokes her decision to suspend Congress lawmakers.
While denying any knowledge of government's proposal to end the logjam, Sonia said that the Govt's "dictatorial" attitude is not acceptable to us and the agitation will continue on Thursday also.
Congress MPs led by Sonia and Rahul are continuing protest at Gandhi's statue in parliament premises.
Union Minister Venkaiah Naidu today said that government is willing to go extra mile but can't give in to unreasonable demands.
He alleged that Congress is rattled at Narendra Modi govt's success and wants to block it,
Congress Vice President Rahul Gandhi also took swipe at the government, he said that we are democratic people we respect the chair of speaker but disagree with her decision.
Stepping up the attack against the Narendra Modi government, a united Opposition continued its agitation on Wednesday against the suspension of 25 Congress MPs by the Lok Sabha Speaker for ''willfully'' disrupting proceedings in Parliament.
Sonia Gandhi on Tuesday had termed the suspension of 25 Congress lawmakers from the Lok Sabha as "murder of democracy." The Congress President was leading her party's lawmakers from both Houses in a protest against the suspension.
A number of parties urged Lok Sabha Speaker Sumitra Mahajan to review her decision amid intense speculation that she might revoke her order.
Congress lawmakers including Sonia Gandhi, ex-PM Manmohan Singh and leaders of six other parties staged dharna in Parliament complex. Opposition leaders, wearing black band, gathered at the Gandhi statue in Parliament to lodge their protest over suspension of the party's MPs.
Meanwhile, MPs of Rastriya Janata Dal and Samajwadi party also staged walked out from Lok Sabha against the suspension of Congress MPs.
The Congress MPs faced action after they did now allow the house to function demanding the resignation of external affairs minister Sushma Swaraj and Rajasthan CM Vasundhara Raje for allegedly helping Lalit Modi and Madhya Pradesh chief minister Shivraj Singh Chouhan over the Vyapam scam.