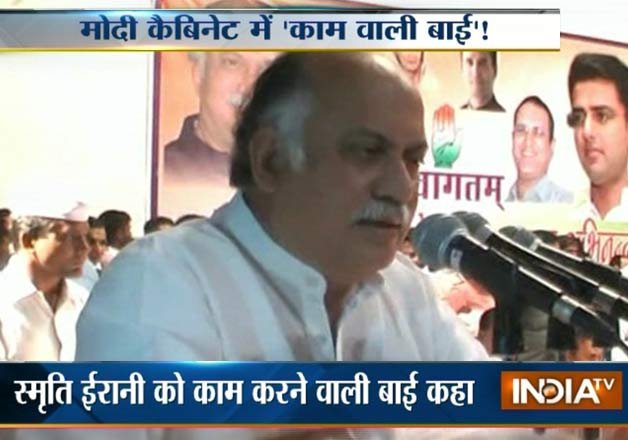 New Delhi: Congress general secretary Gurudas Kamat has sparked a fresh controversy by calling Union HRD Minister, Smriti Irani, a 'kaamwali bai'.
"Her (Irani) family's financial condition was not good; therefore, she worked in a hotel in Versova. Since, Smriti was only 10th pass, she cleaned tables in the hotel," Kamat said.
Kamat, who is party affairs in charge of Rajasthan, said this while addressing a public meeting in Pali for upcoming municipal elections in Rajasthan.
Born to a cross-cultural family, Irani before finding modelling stardom worked as a waitress at McDonald's.
Kamat also attacked Prime Minister Narendra Modi saying he inducted 'uneducated' Irani in Council of Minister because of some 'self interest'.
"As soon as BJP came to power in the country, Prime Minister Narendra Modi made Smriti a Minister. Uneducated Smriti has become 'Mai Tulsi Tere Aangan ki," he said.
The Congress leader further compared Modi with Hitler and said that a 'chaiwala is running the country'.
On Modi's radio programme 'Man Ki Baat', he said, "What does a person who deserted his wife 40 years ago know about family happiness? What can he teach people?"
Meanwhile, the BJP said that the comments made by Kamat reflect frustration of Congress.
"The comments reflect Congress party's frustration and anti-poor mentality," senior BJP leader Ashok Parnami said.