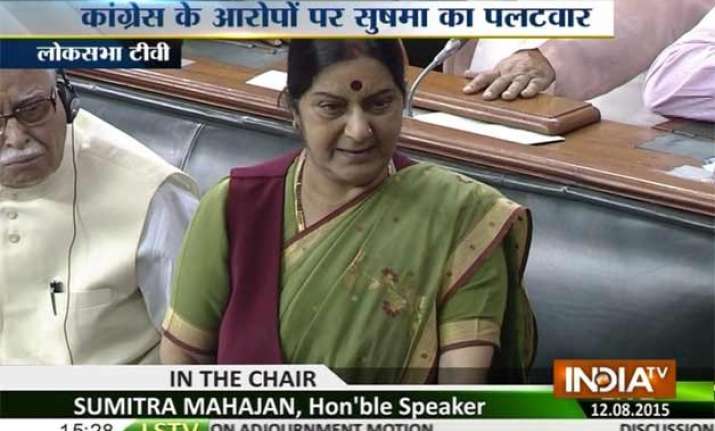 New Delhi: The campaign for the ouster of External Affairs Minister Sushma Swaraj was today met with a strong counter-offensive when she launched a no-holds-barred attack on Congress accusing it of having taken money to help Ottavio Quattrochchi and Warren Anderson flee India even as the government rejected the demand for her resignation.
Taking the floor after a number of searching questions were raised by Congress group leader Mallikarjun Kharge, Swaraj's charges against late Prime Minister Rajiv Gandhi and his government and the attack on Rahul Gandhi escalated further tensions between the opposition and government as a washed-out session of Parliament comes to an end tomorrow.
On the penultimate day of the month-long session, which was paralysed over the Congress demand for Swaraj's resignation, the two sides settled for a discussion on an adjournment motion that was often acrimonious.
At the end of the day, the adjournment motion was defeated by a voice after Congress walked out of the House and Finance Minister Arun Jatiley rejected the demand for her resignation saying all the allegations against "are baseless".
Kharge, who moved an adjournment motion, raised a number of queries over Swaraj's help to former IPL Commissioner Lalit Modi, a "fugitive", in getting travel document "in stealth" to go outside London when law enforcement agencies were looking for him here.
He accused her of involved in conflict of interest because her husband and daughter were lawyers for Modi, which she rejected saying the two did not appear in the case of Modi's passport cancellation and did not take a single rupee as fees.
But things got personal when Swaraj began her reply and launched into a fusillade against Gandhi and the Congress governments in the past including the one headed by his late father Rajiv Gandhi.
Swaraj referred to Rahul's attack on her that she indulged in a criminal act and helped a "fugitive flee" from law in "stealth".
"Sushma does not do anything in stealth. If there was anyone who indulged in stealth it was the Rajiv Gandhi government that helped Union Carbide's chief Warren Anderson to flee from India in the wake of the Bhopal gas disaster.
"It was the Congress government that helped Bofors accused Ottavio Quattrochchi to flee from India. Rahul Gandhi, who she said often shows interest in taking two-month holidays, should sit in isolation and go into the history of Congress governments.
"Come back and ask your mother how much money did Quattrocchi give. Why was Warren Anderson, who was responsible for the deaths of 15,000 people, allowed to go out of the country," she said in her speech that riled the Congress benches.
Later, Rahul Gandhi himself took the floor and hit back at Swaraj saying she helped Lalit Modi because her family (husband and daughter) were the lawyers for him.
"I ask Sushma Swaraj how much money you got for rescuing Modi. You must be the only person in the world to help a person on humanitarian grounds in stealth," he said.
He accused Prime Minister Narendra Modi of maintaining silence and cited Gandhiji's three monkeys to claim that Modi "does not see truth, does not speak truth and does not hear truth". Modi is not in the House because he does not have the guts to face truth, Rahul said.
He said the prime minister was not talking on the issue after having promised to bring blackmoney back to the country and putting Rs. 15 lakh in everybody's account.
"Mr Lalit Modi is the symbol of black money in the country. IPL is the symbol of blackmoney in the country," he said.
Replying on behalf of the government, Jaitley said a "mountain was made out of what was not even a mole hill".
Hitting back at Congress for targeting Swaraj in a sustained manner, he said she had been made a "scapegoat of a pretext" as the main reason for disrupting Parliament was to "sabotage the Indian growth story" by stalling reform legislations like GST.
He ruled out Swaraj's resignation, saying she had done nothing wrong and the Congress had created a "cloud" of a "scandal" which did not exist.
Making a scathing attack on Rahul, Jaitley said the Congress Vice President is "an expert without knowledge".
Referring to his citing the story of Gandhiji and three monkeys and asked him not to "make a monkey out of the country" by holding up an entire session of Parliament.
"A mountain is being made out of what is not even a mole hill," he said, while insisting that the former UPA government had done nothing in concrete terms to bring back Lalit Modi.
He also hit out at Rahul for questioning the role of Swaraj's lawyer daughter.
"There are still some honest people whose children have to work for a living. There are other people who, for generations in politics, have not worked for a living. They have learnt the art of living comfortably without working, which we have not," he said in a veiled reference to the Gandhi-Nehru family.
Earlier, Swaraj, while intervening in the debate, tore into Congress, saying it had helped Bofors accused Ottavio Quattrocchi and Bhopal gas leak accused Warren Anderson in fleeing India and roped in Rajiv Gandhi in this regard.
She specifically responded to Rahul's charge that she had got money to help Lalit Modi, telling him to ask his "mamma" as to "how much money had been taken from Quattrocchi" and "why did 'daddy' (Rajiv Gandhi) get released the killer of 15,000 people (in Bhopal gas leak)," an apparent reference to Anderson.
PTI
Highlights:
* Lok Sabha adjourned for the day.
* Lok Sabha rejects Adjournment motion moved by Mallikarjun Kharge by voice vote.
* Rahul is an expert without knowlegde: Arun Jaitley
* Congress leaders stage walkout from Lok Sabha
* Govt completely rejects the allegations levelled by Kharge ji & Rahul ji: Arun Jaitley
* Aap (PM) bolne se mat dariye, desh sun na chaahta hai: Rahul Gandhi
* Modi ji ke 3 naye bandar hai, unka kehna hai- Sach mat dekho, sach mat suno, sach mat bolo: Rahul Gandhi
* Gandhi ji ke 3 bandar kehte hain - Bura mat dekho, bura mat suno, bura mat bolo: Rahul Gandhi
* Sushmaji held my hand in parliament yesterday and asked me, "Beta Maine galat kya kiya?": Rahul Gandhi
* PM Modi doesn't have the guts to sit here and face our questions: Rahul Gandhi
* I want to tell Rahul Gandhi that he loves taking holidays...next time he decides to take a holiday, he should read his family history. Then he should come back and ask his mother (Sonia Gandhi), how much did his family earn from the Quattrocchi scam and why his dad (Rajiv Gandhi) let Anderson go - Sushma Swaraj
* Rahul Gandhi accuses me of hiding things. I didn't hide anything. If something was hidden, it was Quattrocchi and Anderson at the time of Congress - Sushma Swaraj
* Mallikarjun Kharge said I admitted my fault, Honorable Speaker what I said was if helping a woman suffering from cancer who's an Indian citizen: EAM
* I reiterate, I have not commited any crime: Swaraj
* I am requesting Kharge as a leader, please take these people to their seats: Sumitra Mahajan on uproar in LS
* Mallikarjun ji has imposed allegations on Sushma ji for 1 hour, now she must be allowed to speak and clarify: Arun Jaitley in LS
* Opposition leaders raising slogans as EAM Sushma Swaraj speaks in Lok Sabha
* Lok Sabha Speaker Sumitra Mahajan asks EAM Sushma Swaraj to intervene
* EAM Sushma Swaraj ji must resign on moral grounds and for direct or indirect involvement: Kharge
* Sonia Gandhi jumps in Well to protest against Satish Gautam's remark
* Lok Sabha adjourned till 2 pm
* Lok Sabha adjourned due to uproar in Parliament after BJP MP Satish Gautam said 'Rahul ki mausi ko kitna paisa mila tha Lalit Modi se'
* Opposition leaders raise slogans of 'Nhi chalegi nhi chalegi, Taanashahi nhi chalegi' in Lok Sabha
* Is it not recommendation when you say that it (giving travel documents to Lalit Modi) won't affect relationship between India & UK?: Kharge
* Sushma Swaraj wanted to help Lalit Modi: Kharge
* How you can mix the humanitarian ground and law: Kharge
* We want Prime Minister to listen us, then only we will be assured the he will take action: Kharge
*Congress leader Mallikarjun Kharge appeals LS speaker that presence of PM necessary during discussion on Lalitgate.
* Speaker allotted 150 minutes to discuss the issue.
* Speaker Sumitra Mahajan admits adjournment motion of Congress to discuss Lalitgate issue.
With only two days remaining in the ongoing Monsoon Session of Parliament to conclude, the NDA government is making all efforts to ensure the House transact business.
As soon as the Lok Sabha met today, Congress gave adjournment notice over Vyapam Scam and Lalit Modi issue.
Opposition leader Mallikarjun Kharge demanded that discussion can't take place in the absence of Prime Minister Narendra Modi in the House.
"The Prime Minister must be present when the minister makes her statement," Kharge said.
Soon after this, External Affairs Minister Sushma Swaraj appealed the Speaker to accept Kharge's adjournment motion so that the House can function.
"I have seen the adjournment notice. I request you to accept Mallikarjun Kharge's notice as it is and start the discussion immediately," Swaraj said.
Speaker Sumitra Mahajan, however, insisted that she will consider the adjournment notice after question hours.
In Rajya Sabha, the proceeding was disrupted after the Opposition created ruckus.
Yesterday, the GST Bill was introduced in the Upper House by Finance Minister Arun Jaitley amid strong protests by the Congress MPs.
The Bill was introduced following a report by a select committee of the Rajya Sabha.
The NDA regime faces a tough challenge in getting the bill passed in Rajya Sabha, where it is in a minority. Congress, whose members yesterday created ruckus and trooped near the Rajya Sabha chairman's podium, is likely to oppose the bill tooth and nail.