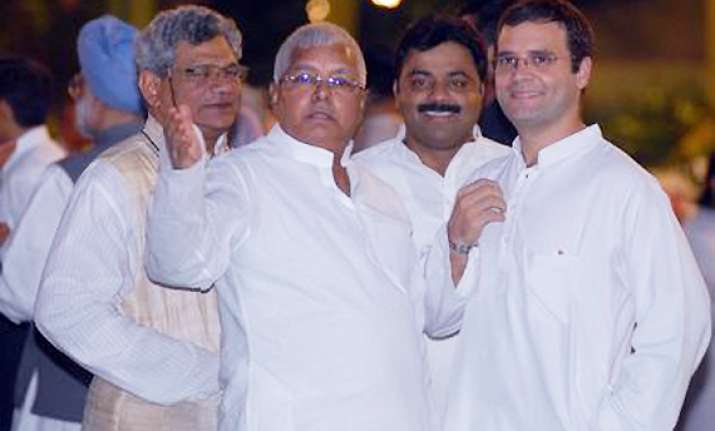 Bulandshahr (UP), Feb 25: RJD President Lalu Prasad today said that Congress was in a strong position in Uttar Pradesh assembly elections mainly due to hard work done by Rahul Gandhi.

"Congress is in strong position in UP assembly elections due to hard work done by its General Secretary Rahul Gandhi," Prasad, who is canvassing for Congress candidate from Sikandrabad in Bulandshahr Jitendra Yadav, whose son was recently married to Prasad's daughter, told PTI.

The RJD, an ally of UPA, has not fielded its candidates in Uttar Pradesh polls but Prasad is canvassing for some Congress candidates in the state.

Asked about the number of seats Congress would get in the 403-member UP assembly for which polls are underway, the RJD supremo said they would get a "large" number of seats. Congress had 22 seats in the last assembly elections in UP.

"Influenced by Rahul Gandhi plain talking, a large number of youths are flocking to Congress rallies which indicate that the party is in good position there," Prasad, Lok Sabha member from Chhapra in Bihar, said.

The RJD chief, who served as Railway minister in UPA I, said an impressive performance of Congress in UP would strengthen the secular forces in the country.

On Jitendra Yadav chance, the RJD chief said Yadav is getting support from all castes and classes and he would romp home easily.

Accompanied by former RJD leaders and Union Ministers Prem Chand Gupta and Jaiprakash Yadav, Prasad addressed several rallies in Sikandrabad today to drum up support for Jitendra Yadav.