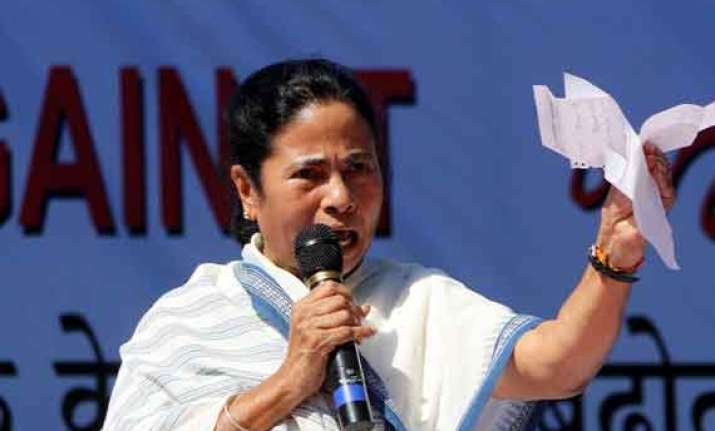 New Delhi, Nov 19: Congress today took a dig at West Bengal Chief Minister and TMC chief Mamata Banerjee over her decision to bring a no-confidence motion against UPA government, saying that never in the history of Parliament a party with 19 members has pushed for such a measure.
The party also asked Banerjee to seriously reconsider her decision.
"This is a peculiar situation that in the history of Parliament a 19-member party is talking of a no-confidence motion," Information and Broadcasting minister Manish Tewari told reporters here.
The minister rued that Banerjee is reaching out for support on her party's motion to even those opposition parties "which she has fought for the last 30 years."
"I hope she will reintrospect and reconsider her decision seriously because till three months back she was part of this government and TMC ministers were part of it," he said.
Attacking UPA government on FDI in retail and corruption issues, Mamata had on November 17 said her party would bring a no-confidence motion against UPA in the winter session of Parliament.
She had sought the support of UPA allies as well as Left parties and expressed readiness to talk to even BJP.
"A time comes when you have to evolve from a street fighter to a statesperson. You have to evolve from an agitator to an administrator. It's a time which comes in everybody's life and with due respect I do hope that the CM will seriously introspect about her decision," Tewari said.
The Congress leader also wondered whether the West Bengal Chief Minister has a to right to "veto" other states like Haryana, Punjab and Jammu and Kashmir who have decided for FDI in retail.
"We have been saying that if the West Bengal Chief Minister does not want to implement FDI in retail in her state, she is free to do that. But if states like Jammu and Kashmir, Punjab and Haryana want to implement it, then is it fair on her part to veto it?" he asked.