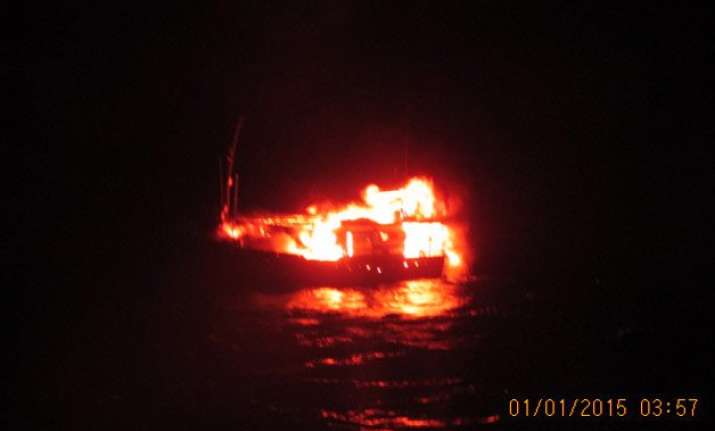 New Delhi: The Bharatiya Janata Party (BJP) and Congress on Sunday engaged in a slugfest over the Pakistani boat incident with the ruling party accusing the latter of providing "ammunition to Pakistan" and speaking their language besides playing "petty politics" on terror.
The Congress, which yesterday asked the government to come clean on the issue, today questioned its intentions in handing out source based information instead of putting the facts of the entire incident in the high seas in public domain and sought answers.
It also questioned the BJP's "nervous" reaction to the matter and demanded that the government bring out the facts in a transparant manner to check recurrence of such incidents in future.
BJP spokesperson Sambit Patra said the voice of Congress, the principal opposition party of India, is lending credence to the Pakistani stand.
"One cannot differentiate between the voices of the Congress Spokespersons and the Pakistani Spokespersons. Yet again the Congress had supplied ammunition to Pakistan," he said.
He said it was "ironic" that instead of standing with the Indian government and thanking those who protected the country from a "probable terrorist attack", the Congress chose to be sympathetic towards the probable perpetrators.
"What was the hurry in the Congress to question the Indian Government and lending a helping hand to the Pakistani Government. Did the Congress just wanted to gain some cheap publicity out of a serious issue or is there more to read?," Patra said.
Patra further said that "Congress has touched a new low in Indian Politics. They are playing Politics over terror, petty politics on National security."
Congress leader Manish Tewari, however, said that it was not a question on turning tables on anybody.
"An attempt has been made to undermine India's national security and it is obvious people would want to know which is the organisation involved, what exactly happened in the high seas and what exactly the government intends to do to ensure such incident does not happen in the future," Tewari said.
"The fact that BJP is reacting to it with such nervousness to what is a legitimate demand that the facts with regards to what happened in the high seas should be made public, especially after the government has been putting source based information out in the media..." he said.
Congress yesterday asked the government to "come clean" on the Pakistani boat issue and explain "which terrorist organisation" was behind the episode that unfolded on the high seas.
"Government should come clean on it. There is no evidence ... How can you say that a terrorist attack was prevented? How did they (government) come to the conclusion that it was a terrorist boat? It is very strange. Nothing has been explained. Which terrorist organization was behind it?" party spokesperson Ajoy Kumar said citing media reports which have questioned the government version about the interception and the subsequent blast on board and sinking of the fishing boat.