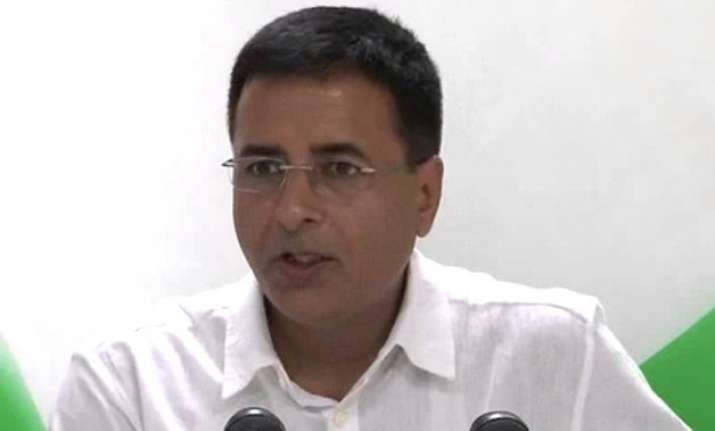 New Delhi: Congress today accused Prime Minister Narendra Modi of making sustained attempt to "dilute" the RTI Act to coverup the "covert and corrupt practices" allegedly being undertaken by his government.
"There has been a sustained effort on part of the government to dilute the Act so that covert and corrupt practices being undertaken by his government are shielded from the eyes of the people," party's chief spokesman Randeep Surjewala said here.
In a statement on the 10th anniversary of the enactment of the ambitious Right to Information Act, he alleged that beginning with RTI, Prime Minister Narendra Modi's "systematic approach has been to annihilate" the rights-based structure.
This was being done, so that by taking away the entitlements of the people, the PM could "entitle himself and his crony friends", he alleged.
"Modi will be well-advised to learn a lesson from the U- turn which he had to take on the issue of Right to Fair Compensation Act and desist from any further adventurism," he said, adding that Congress is committed to fighting any such dilution and will take to the streets if these Acts are tampered with.
Surjewala alleged that first the government "dragged its feet" without any reason in appointing the Chief Information Commissioner and Information Commissioners, then it withdrew administrative support to the Commission by withdrawing bureaucrats and cutting the number of officials posted with it.
"And finally, dealt a severe blow to the Commission by cutting finances, thereby making its functioning almost impossible," he further added.
Besides, he claimed that there has also been a "consciously undeclared attempt" at diluting the RTI Act by instructing officials to stonewall queries received under the Act, as it is being frequently reported in the media.
"It is a result of all this that today the pendency of cases at the CIC has gone up to more than 35,000", he added.