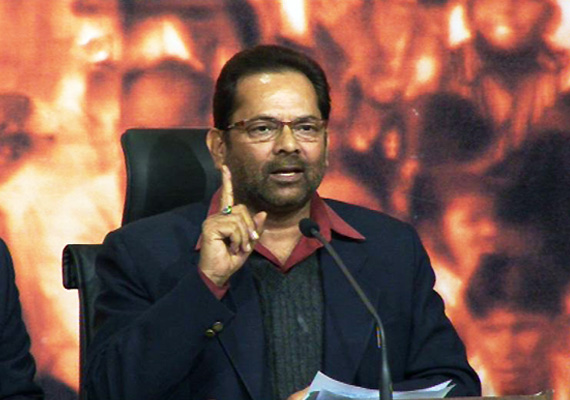 Ghaziabad, Feb 11: Irrespective of the fact whether Congress leader Sonia Gandhi has shed tears on the Batla house issue or not, her party will weep after the declarations of UP poll results, BJP today said.

"Digvijay Singh says that Sonia Gandhi did not shed tears on the Batla house issue, while other party members say that she wept over it, but it is sure that Congress will weep after the declarations of poll results," senior BJP leader Mukhtar Abbas Naqvi said.

Congress general secretary Digvijay Singh yesterday rejected Law Minister Salman Khurshid's claim that Batla House encounter picture brought tears into the eyes of Sonia Gandhi.

While addressing an election meeting in Azamgarh on Thursday, Khurshid had said that the pictures of encounter brought tears into the eyes of his party president, who asked him not to show her the pictures.

The BJP also moved the Election Commission today seeking a ban on Khurshid's campaigning in UP.

Naqvi said that Rahul and Priyanka both are playing "dubious" games with voters to hide the shortcomings of the UPA government as they know that voters will not forgive them for the "open loot" of public money committed by their party leaders.

He said that Prime Minister Manmohan Singh can not escape from the responsibility of scams, and public will not forgive him for his role of being "silent".

Attacking the Centre on the issue of alleged corruption in various schemes in Uttar Pradesh, the BJP leader alleged that UPA government always "defended" state chief minister Mayawati on the issue of "wastage" of public funds.

Both UPA and Mayawati governments are under fear as BJP will form the next government with full majority in UP, he claimed.

BJP media president Sardar SP Singh claimed that about 200 local leaders of Muslim community in western UP today joined BJP before Naqvi.

Naqvi said that Ghaziabad will be the centre of BJP for February 28 election in western UP, and he will personally look after the election management.