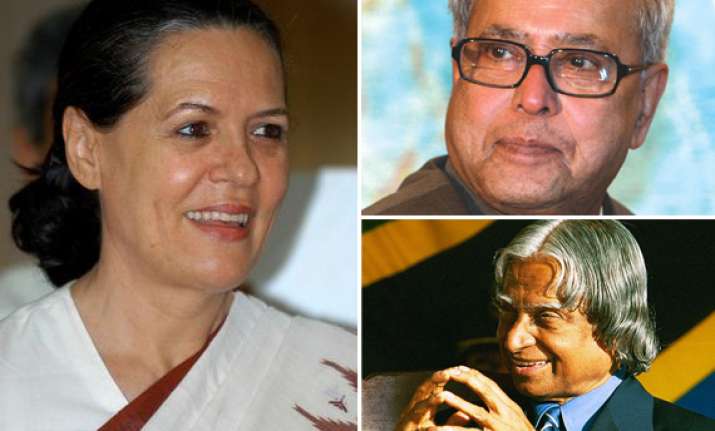 New Delhi, Jun 14: The Congress and its allies TMC and Samajwadi Party today appeared set for a confrontation, with the ruling coalition rejecting Prime Minister Manmohan Singh's candidature for the President's post while the other side gave all indications of a contest.
On a day of hectic political activities triggered by the virtual revolt of the two regional parties, the Congress rebuffed SP-TMC nominees who also included former President A P J Abdul Kalam and former Lok Sabha Speaker Somnath Chatterjee.
Coming down heavily on TMC chief Mamata Banerjee for disclosing the names of Finance Minister Pranab Mukherjee and Vice President Hamid Ansari as the first and second choices of UPA, Congress General Secretary Janardan Dwivedi declared that "We cannot afford to spare Dr Manmohan Singh as Prime Minister. The other two names (A P J Abdul Kalam and Somnath Chatterjee) are not acceptable."
The assertion came after Congress President Sonia Gandhi held consultations with senior party leaders including Mukherjee and allies DMK and NCP.
Later, the Congress Core Group met at the Prime Minister's residence for about two hours when they reviewed the strategy and decided to have a meeting of UPA leaders tomorrow.
In the other camp, Mamata, who along with SP leader Mulayam Singh Yadav shocked the Congress yesterday with their move, asserted that Kalam is a "number one candidate" and made it clear that they would "contest" if there was no consensus on him.
In an ominous remark that could have a bearing on the stability of the government, she said if the ruling party candidate loses in the Presidential poll, then it is for it to consider the issue of mid-term elections. 
"The ball is in the court of the Congress," she told reporters before leaving for a meeting with Yadav, her third in the last 48 hours.
Mamata said that she and Yadav were seeking consensus on the candidature of Kalam and "whoever supports, supports and whoever does not support, we will go according to our path". 
"We have given a clarion call, whoever supports or not supports us is not our problem," the Trinamool chief said. 
Earlier her party MP Kunal Ghosh said if Congress pushes the candidature of Mukherjee or Ansari, Trinamool will contest with Kalam as its nominee.
Making clear her unhappiness with the Congress rejection of their nominees, Mamata said she wanted consensus on the names she proposed "but if nobody listens, what to do".
The West Bengal Chief Minister also disclosed that she will not attend the UPA meeting tomorrow, claiming that she was already late in leaving Delhi for Kolkata. 
To a question whether she would quit the UPA, she said, "we have not left the UPA. If they don't want (us), the choice is with Congress.... We don't want to topple the government." On whether TMC-SP would accept NDA support to Kalam's candidature, she indicated that she would not be averse to it. 
Describing Kalam as the "best candidate", she said, "It is not fair to say he will be BJP candidate or (BJD leader) Naveen (Patnaik)'s candidate or Mamata's candidate.
Earlier also, (when Kalam became the President in 2007) I had proposed Kalam's name and NDA had supported."