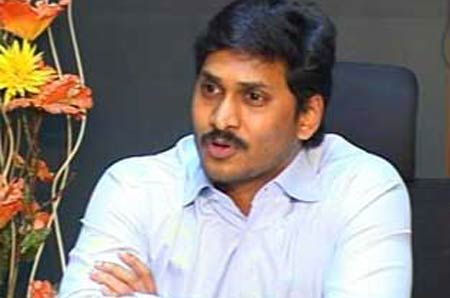 New Delhi: Congress high command on Sunday sought a detailed report from its Andhra Pradesh unit about his latest act of rebellion. The latest provocation for the move against Jagan was an 'attack' on both PM Manmohan Singh and party chief Sonia Gandhi in a programme on Sakshi Telugu channel owned by him, reports Times of India.
Though Sakshi TV announced that the show scheduled on Sunday would be a "re-telecast" of the episode aired on Friday night, viewers did not get to see some of the captions and commentary which were part of the earlier telecast."The party has sought a report from the state leadership," general secretary Janardan Dwivedi told reporters.
Though he declined to say anything more, the mood in the party seemed to be hardening against Jagan. Son of late Andhra CM Y S Rajasekhara Reddy, the young MP has raised the banner of defiance by virtually running a parallel show.
Though the party's central leadership has so far given him a long rope in view of the fluid political situation in the state, the 'attack' on the top leadership on his TV channel is being seen as an ultimate provocation.According to sources, inputs have been sought from several senior party functionaries in the state.
However, sources pointed out that action against Jagan might not be imminent in view of the leadership's preoccupation with the bigger issues of the 2G spectrum scam, continuing stalemate in Parliament and the case in the Supreme Court.
The party appears willing to defer action against Jagan on the ground that any step on the basis of a TV channel's programme could be misinterpreted as the leadership's 'intolerance' of the media.