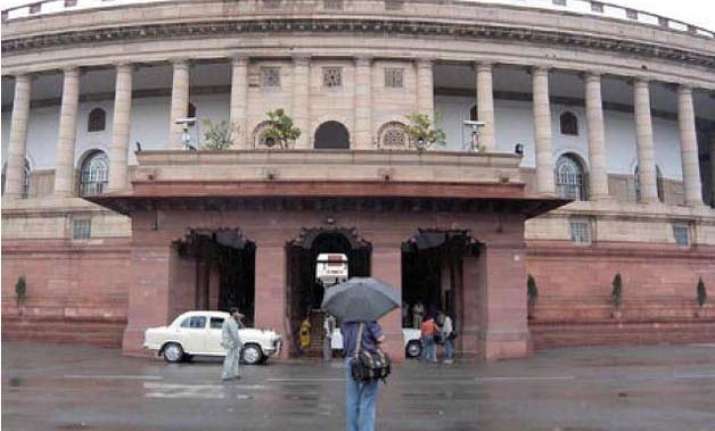 New Delhi:  Congress today firmly put the onus on government for smooth running of Parliament by demanding a "minimum action" in removal of Sushma Swaraj, Vasundhara Raje and Shivraj Singh Chouhan even as BJP decided to vigorously counter the expected onslaught, setting the stage for a stormy Monsoon session starting Tuesday.
Mounting an offensive on the Modi government, Leader of opposition in Rajya Sabha Ghulam Nabi Azad said the running of Parliament and passage of important bills will be "more easy" if BJP takes action against these leaders while it will also help the party in "correcting" its image which has taken a hit due to the scams.
"The minimum action is all those, particularly the three, who are involved in Lalitgate, including Rajasthan chief Minister(Raje) other MP and Union Minister(Swaraj) and Madhya Pradesh Chief Minister(Chouhan) and two ministers of Maharasthra," Azad told reporters when asked what is the minimum action by the Prime Minister that will satisfy his party.
"I am hopeful that when the Parliament session starts day after, Prime Minister will start by saying that those involved or those on whom charges have been levelled in Lalitgate as well as Madhya Pradesh Chief Minister..., he (PM) will announce their resignation," he said. Chouhan is embroiled in the multi-crore Vyapam scam.
Bracing for the opposition onslaught in Parliament, government and the ruling BJP decided to aggressively counter the attack on its leaders like Swaraj, Raje and Chouhan and rake up controversies that involved some Congress leaders.
BJP president Amit Shah held strategy meetings with various party colleagues, including union ministers Arun Jaitley, Swaraj, Smriti Irani, Ravi Shankar Prasad and Piyush Goyal as well as party spokespersons during which Raje  was also present.
Subsequently, Shah, along with Jaitley and other senior leaders and union ministers like Rajnath Singh and Venkaiah Naidu met Prime Minister Narendra Modi to finetune the strategy.
Chouhan also landed in Delhi later in the evening to participate in the confabulations.
Making it evident that there will be no resignations, BJP discussed how to counter the opposition attack and harmonising the response of the government and the party to these issues, sources said.
BJP does not want to be seen on the defensive on the controversial issues plaguing the party for the last few months, the sources said.
"We will aggressively and effectively counter the disinformation campaign of Congress," said party media cell in-charge Shrikant Sharma, who was present at Shah's meeting.  
"As far as Lalit Modi controversy is concerned, Congress is totally confused. On one hand, they are seeking resignation of our leaders on the basis of Lalit Modi's comments, but has no answer to his charges against Priyanka Gandhi, her husband Robert Vadra and an alleged deal Sonia Gandhi's sister. We will seek their answers on these," he said.
Sensing the opposition heat his government is likely to face in Parliament, Modi had on Friday acknowledged that there will be a 'muqabla' (contest). The Monsoon session is expected to last till August 13.