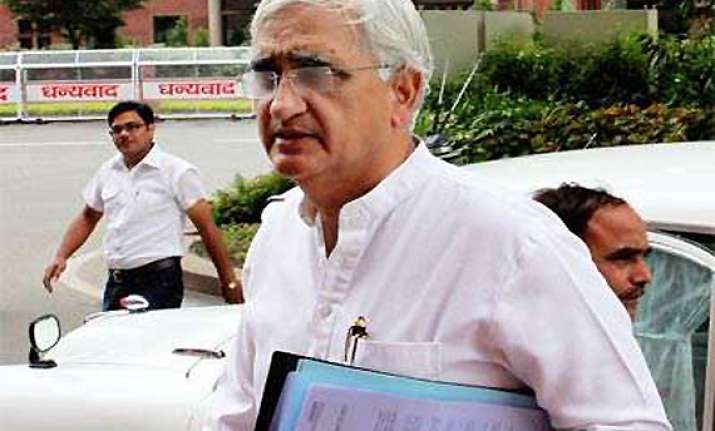 New Delhi, Jan 16: Strongly backing Salman Khurshid, a delegation of Congress leaders today met the Election Commission raising objections to its notice to the Law Minister for announcing plans to increase sub quota for backward minorities in Uttar Pradesh. 

"We have given very strong points in view of the notice given to Salman Khurshid," party spokesperson Abhishek Singhvi said after meeting the EC.

The delegation was led by party general secretary Digvijay Singh and Singhvi gave a "short and succinct summary" of the party's objections to the EC notice. 

The Congress delegation said the reservation announcement referred to by Khurshid was made much before the poll dates were announced by the EC and hence there was no violation of the Model Code of Conduct.

They also contended that sub quota promise figures in the Congress manifesto of which Khurshid is the chairperson, party sources said.

The sources said that Chief Election Commissioner S Y Quraishi and the other two Election Commissioners will hear the matter on January 19.

Singhvi, a lawyer himself, who went on behalf of Khurshid to take up the matter with EC, said a more detailed hearing in this regard will be held in the next fortnight. 

Political parties are going all out to woo the minority votes in poll-bound UP.

On Friday, the party had distanced itself from Khurshid's remarks dubbing them as his "individual" views.

The very next day, the party took a U turn saying it favoured further increase in job quotas for backward minorities in UP and that it felt that the decision on 4.5 percent sub quota for backward minorities should not have been put on hold by the EC.

The EC has put the government decision on hold in all the five election-bound states till the completion of the poll process.