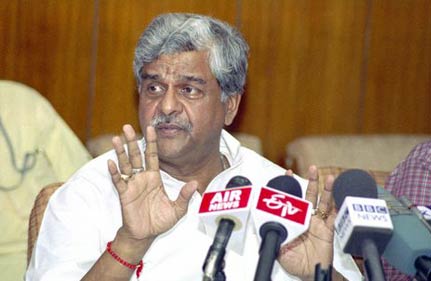 Lakhimpur, Nov 18: Congress-led UPA government at the Centre has taken strong measures in cases of corruption, but compulsions of being in coalition has forced the partners to not talk much on the issues, Union Minister of State for Coal Sriprakash Jaiswal said today.
"It is our compulsion that we run a (coalition) government, where a number of regional parties are involved and we have to respect them. The people of the country realise this whether the Opposition realise it or not", Jaiswal said.
"Whenever, a case of any lapse came to the light, the government took strong note of it and even removed the tainted persons," he told media-persons at the the residence of Kheri MP Zafar Ali Naqvi.
Responding to a question on 2G spectrum and CWG scams, Jaiswal said, "the UPA government promised to the people to carry out an effective probe after the CWG games were over and within its next 24 hours, the government kept up its promise instituting a probe."
"Similarly, in 2G spectrum scam, the government removed the concerned minister (A Raja) and yet the opposition is not satisfied," he said.
Jaiswal claimed that BJP is funding the Peace Party as well as other such outfits with its nefarious designs to disturb the communal harmony of the country.
"BJP knows it well that it would lose its support base without communal flare-up in the country", he alleged.
Opposing the demand for joint parliamentary committee (JPC) probe into the CWG scam, he said "the competent investigating agency could carry out effective probe and not the parliamentarians like him". PTI