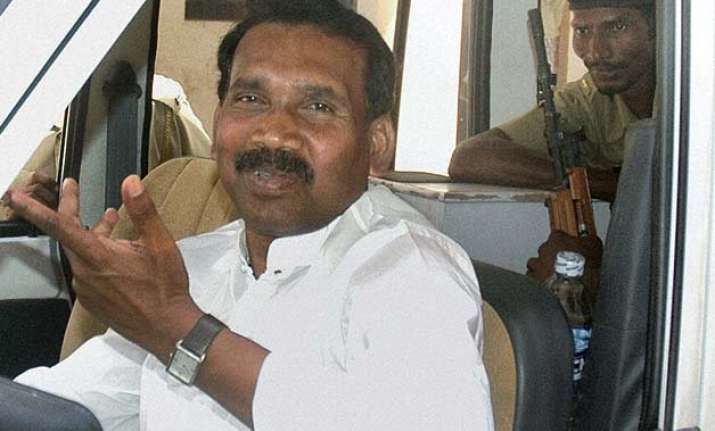 New Delhi:  Former Jharkhand Chief Minister Madhu Koda, ex-Coal Secretary H C Gupta and seven others were today ordered to be put on trial by a special court, which observed that they had allegedly conspired and acted in a "blatant and brazen manner" in allocation of a coal block.  
Others against whom charges were ordered to be framed were former Jharkhand Chief Secretary Ashok Kumar Basu, two public servants - Basant Kumar Bhattacharya and Bipin Bihari Singh - Vini Iron and Steel Udyog Ltd (VISUL), its director Vaibhav Tulsyan, Koda's alleged close aide Vijay Joshi and chartered accountant Navin Kumar Tulsyan.  
The court noted in its 84-page order that various acts of omission and commission committed by the accused prima facie made it clear that they had conspired with a "sole objective" to accomodate VISUL in Rajhara North (Central and Eastern) coal block in Jharkhand.
"However, the blatant and brazen manner in which various public servants acted in conspiracy with the private parties involved so as to procure not only allotment of a coal block but also excess coal is prima facie writ large on the face of the record. The overall facts and circumstances of the case thus give rise to grave suspicion against all the accused persons warranting framing of charge for various offences...," Special CBI Judge Bharat Parashar said.  
The court held that offence of Section 120-B (criminal conspiracy) of the IPC was prima facie made out against all nine accused, while charge under relevant penal provisions of the Prevention of Corruption Act was made out against five public servants—Koda, Gupta, Basu, Singh and Bhattacharya.  
The court said Gupta also prima facie committed offence under section 409 (criminal breach of trust by public servant) of the IPC while Vaibhav Tulsyan, Joshi and VISUL prima facie committed offence of cheating under section 420 of the IPC.
 
"Thus, even if various acts of omission and commission as committed by the accused persons are considered comprehensively then also it is prima facie clear that they all were acting in pursuance to a criminal conspiracy whose sole objective was to accommodate M/s VISUL in Rajhara North (Central and Eastern) coal block," the judge said.  
The case pertains to alleged irregularities in allocation of Rajhara North (Central and Eastern) coal block to Kolkata-based firm VISUL.