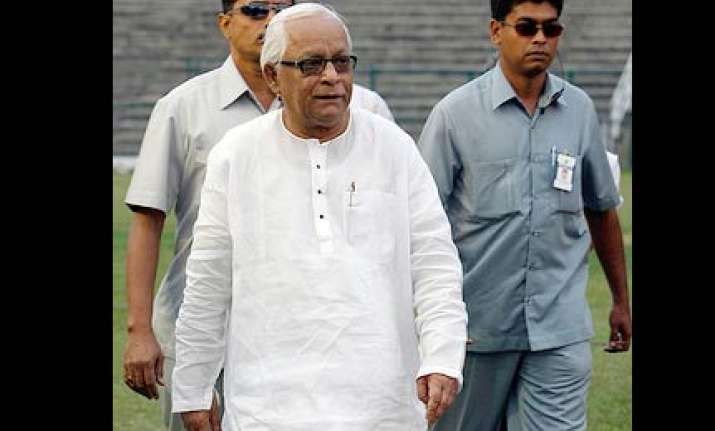 West Bengal Chief Minister Buddhadeb Bhattacharjee will pay a two-day visit to the Maoist-hit areas in West Midnapore district from next Saturday to review the situation and development work, in what is being seen as a morale-boosting exercise. 
Home secretary Ardhendu Sen told reporters after a high-level meeting with the chief minister that 'zila sabhadhipatis' and other officials of Bankura and Purulia, two other Maoist-affected districts, would also be present during the review meeting in Midnapore. 
On being asked whether Bhattacharjee's visit would be a moral-boosting exercise since the people in the Maoist-hit districts were concerned about security, he said, "We are concerned about security.  Naturally they (people) will also have that concern."
Admitting that development work in the districts had suffered, Sen said the Maoists were hindering development work and "we have to increase security cover at the block level to overcome this."
He said there was no plan to deploy military in the Maoist-hit districts and the state government had not received any formal communication from the Centre about anti-Maoist operations.
"Today's meeting reviewed law and order situation, operation by joint forces and development work in the area," the Home secretary said, adding the security would be strengthened once six companies of central security forces arrived in the state.
He said security had been provided to block development officers and steps were being taken to provide security to other officers as well as contractors, if required.
The Home secretary said the work regarding fortification of police stations in Maoist-hit districts would be over in next 10 days.
On the progress regarding the steps against the Maoists who had attempted to attack the Chief Minister's convoy on this day last year, he said about 100 people have been arrested in this connection.
However, he said no arrest had been made in connection with detention of Rajdhani express at Banstala last week.
The Home department did not receive any information regarding the posting of Atindranath Dutta, the officer of Sankrail police station who was abducted by the Maoists and subsequently released, he added. PTI