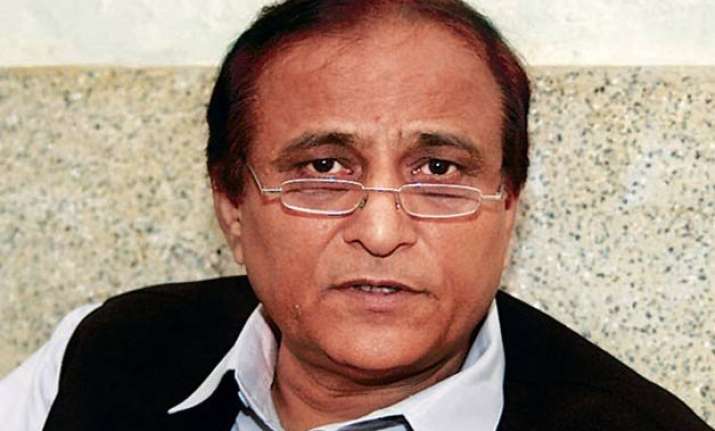 Lucknow: Taking strong exception to Uttar Pradesh cabinet minister Azam Khan's remarks on parks and memorials set up during the Mayawati government, BSP members today staged a walkout from the state Assembly.  
Replying to the allegation of poor maintenance of parks and memorials set up during BSP government, the Samajwadi Party's Parliamentary Affairs minister said the previous regime had no "semblance of democracy."
Earlier, leader of Opposition Swami Prasad Maurya had raised the issue of poor upkeep of parks and memorials through an adjournment notice during the Zero Hour of the Assembly today and called for a debate on the issue.  
Maurya alleged that the memorials built in memory of Dalit icons like Kanshi Ram, B R Ambedkar and Ramabai Ambedkar, were not being properly maintained by the state government.  
"These memorials are not being properly lit, there is lack of cleanliness and this hurts the sentiments of those millions who visit their memorials every day. These are government properties and not that of BSP but it seems that the government is not maintaining the parks and memorials due to political vendetta", Maurya said.
BSP legislator Indrajit Saroj lamented poor security arrangements for the part claiming that thieves cut away pieces of bronze elephants installed in the Buddha Shanti Vihar and while some granite plates in the parks were also stolen.
Replying for the government, Khan refuted BSP's claims saying that state government held the Dalit icons in high esteem and it is wrong to say that the memorials are not being properly maintained.
"BSP wants to derive political mileage out of the issue and divide the society because elections are approaching. If some things have been stolen, we will probe the matter", he said adding parks have several precious items and the state exchequer was milked dry for their construction.  
"This is the poor man's money and it is our duty to preserve it. What happened in the BSP regime was similar to what used to happen in the Mughal emperor's rule there was no semblance of democracy," Khan quipped.  
Agitated by the minister's remarks, BSP MLAs trooped into the Well of the House shouting slogans and alleging that the Azam was trying to humiliate their icons and later staged a walkout from the Assembly.