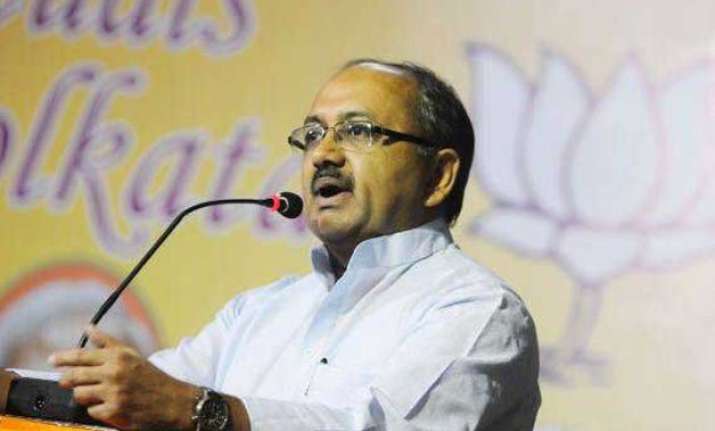 Kolkata: The BJP today welcomed West Bengal Chief Minister Mamata Banerjee's scheduled meeting with Prime Minister Narendra Modi and said that the Centre was "very open" to development of the state.
BJP national secretary Siddharth Nath Singh told a press conference that the Centre "would not be biased on issues of development".
"Chief Minister of any state needs to meet the Prime Minister. The Prime Minister openly welcomes anyone as an elected member of a state, as an elected member of the Parliament... And on issues of development we won't be biased. We are very open (on Mamata Banerjee meeting Modi)," Singh said.
"We are in favour of the development of Bengal that's why two of our ministers (Arun Jaitley, Nitin Gadkari)attended the Bengal Summit in December and the PM also has announced special package in the Budget for the state," Singh added.
The chief minister had last week sought an appointment with Modi seeking a waiver on debt repayment.
On Banerjee terming as 'bunkum' reports that the state had been given a financial package, Singh described it as a ploy to run away from responsibility.
"Mamata Banerjee can make any statement but they need to be supported by facts. The 14th Finance Commission has recommended a ten per cent increase in the states' share in the Union taxes to 42 per cent. Now the total grant in a nutshell is going to be 48 per cent. So more money is going to the state," Singh said.
"But when you give money,accountability and responsibility come into play and there Mamata Banerjee wants to run away from responsibilities. So she is doing this mimicry," he added.
BJP's state president Rahul Sinha alleged that the TMC and the Left Front reached a "consensus" on deferring the non-official discussion on chit funds in the West Bengal Assembly to the next session.
"The Chief Minister actually tried to show a bold attitude proposing the discussion, but realising that the end is close she decided to call it off," he alleged.
The discussion, which was proposed by Banerjee herself to Speaker Biman Banerjee, was to take place tomorrow on the last day of the budget session.