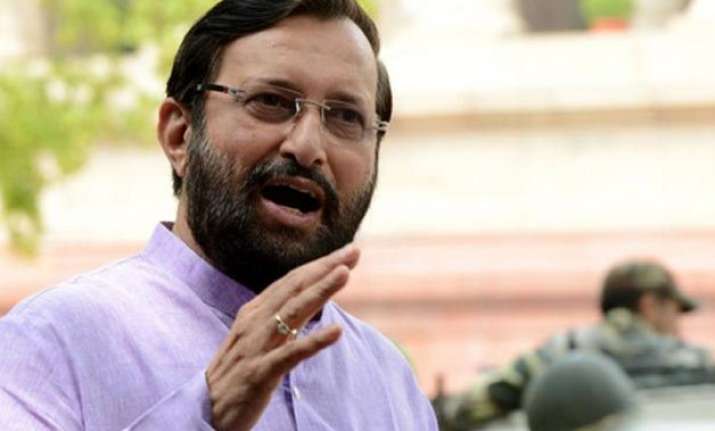 Mumbai: BJP yesterday claimed that Sonia Gandhi and Rahul were not allowing the resumption of business in Parliament even though many of their party leaders wanted the protest on the floor to be called off.
 
"Many Congress leaders wish that the protest should end and Parliament proceedings should be carried on smoothly, but Rahul Gandhi and Sonia Gandhi are not letting them do so," Union Minister and BJP leader Prakash Javadekar told reporters .
 
Seeking to turn the tables on Congress over the Lalit Modi issue, he said, "Congress should now tell the country how much money it received by not issuing a red-corner notice to Lalit Modi."
 
"Congress should also tell how much money it received by not declaring him (Lalit Modi) an absconder and also tell the people how much money did it receive by letting Lalit Modi flee the country," Javadekar said.
 
"Congress recorded its lowest ever tally in the Lok Sabha poll last year and as a result, its politics has also come down to the lowest level as it has asked some questions raising doubt over the commitment of our leader Sushma Swaraj," Javadekar said.
 
Alleging that Congress had "decided beforehand" to stall Parliament proceedings, Javadekar said some of its senior leaders want the logjam to end.
 
The BJP government has a plan to tackle the Parliament logjam, Javadekar said.
 
"We have appealed to the conscience of the opposition leaders and hope that collective wisdom will prevail at last," he said.
 
The BJP leader claimed that Congress didn't want GST bill to be passed and that's why it stalled Parliament proceedings.
 
"Congress does not want GST, implementation of which will boost the GDP growth rate by two per cent and bring economic growth on track," he added.
 
"Congress is not letting Parliament function and obstructing the growth of the nation," the Union minister said.
 
During the previous UPA regime, the Environment Ministry had held up all developmental projects, Javadekar said.
 
"Since we have took over, all the projects of public utility have been accorded utmost importance for clearance," he said.
 
On BJP leader Shatrughan Sinha expressing unhappiness over the suspension of 25 Congress MPs, Javadekar said, "He (Sinha) is on the wrong track."
 
He declined to comment further on Sinha's remarks.