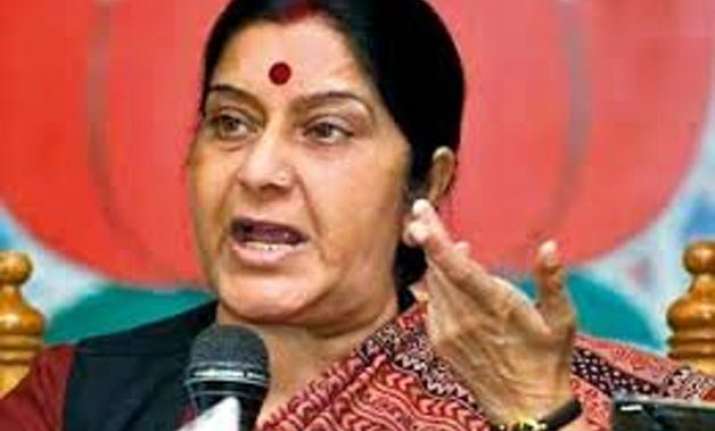 New Delhi : Beleaguered External Affairs Minister Sushma Swaraj was today greeted in the Lok Sabha by a host of NDA members in an apparent gesture of backing her in the wake of the controversy involving her and former IPL chief Lalit Modi for which the Opposition is seeking her resignation.
Several BJP members, as well as those of the Shiv Sena, were seen greeting Swaraj, with some even touching her feet before the House met on the first day of the Monsoon Session.
As soon as the House was adjourned for the day after paying tributes to departed members, Prime Minister Narendra Modi, Home Minister Rajnath Singh and Swaraj were seen involved in an animated discussion near the front row.
Soon, SP supremo Mulayam Singh Yadav joined the three.
The Prime Minister was seen holding Yadav's arm while the SP leader was making a point.
SP leaders like Ram Gopal Yadav have supported Swaraj in the controversay saying people keep coming to politicians for help and there is no reason to demand the resignation of the senior BJP leader.
Just before the proceedings began, Modi went up to the Opposition benches to greet leaders like Sonia Gandhi and the SP chief.
He shook hands with Yadav, Deputy Speaker M Thambi Durai and greeted Gandhi with a namaste.
He also spoke with Gandhi and Yadav before returning to his seat.
An unrelenting Congress had been demanding the resignation of Swaraj and Rajasthan Chief Minister Vasundhara Raje over the Lalit Modi controversy.
It also wants Madhya Pradesh Chief Minister Shivraj Singh Cahuhan to step down following the Vyapam government job recruitment scam.