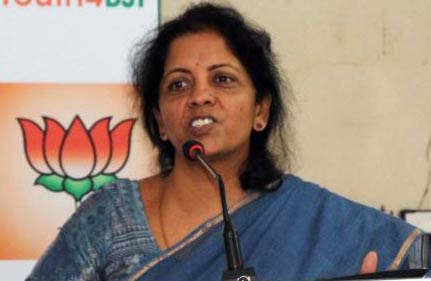 New Delhi, Nov 29: BJP today turned down the government's renewed appeal to give up its demand for a joint parliamentary committee (JPC) probe into the 2-G Spectrum scam, saying its position was based on "logical and justifiable reasons".
"We are sticking to our demand for a JPC. Our demand is based on logical and justifiable reasons. PAC has a lot of work other than the CAG report on 2-G Spectrum allocation. Moreover, in the past, no timely action has been taken by Parliament on PAC reports," BJP spokesperson
Nirmala Sitharaman
told PTI.
Earlier in day, the UPA constituents had held a luncheon meeting to discuss the government stand on the JPC issue after which Finance Minister Pranab Mukherjee told reporters that the government was united in its stand and renewed his appeal to the Opposition to give up its demand for a JPC probe.
Sitharaman said there were larger issues involved in the 2-G Spectrum allocation scam which could not be addressed by the Public Accounts Committee (PAC).
"Telecom Minister A Raja had said due clearances were obtained before any decisions were taken. Who gave the clearances?" she asked.
"Government is ultimately responsible to the Parliament and JPC is a Parliamentary body. The government is saying it has nothing to worry (regarding the 2-G scam), then why are they worried about agreeing for a JPC probe?" she asked.
The Left parties, AIADMK, and TDP will meet President Pratibha Patil tomorrow on the issue. However, BJP is not a part of this delegation, Sitharaman.
The BJP has also questioned the offer made by Mukherjee that Supreme Court can supervise the CBI probe into the scam.
"How can the government second-guess the Supreme Court? Is that an offer at all or are they floating this idea? CBI is anyway a tool in the hands of the government," she said.
Refuting some media reports which said the government had suggested BJP that if a JPC is formed it should investigate the Telecom contracts issue from 1997 onwards and not just the 2-G Spectrum allocation, Sitharaman said, "The government has not discussed any such thing with us. They are against a JPC."
The principal opposition also rubbished the government's contention that its JPC demand was "politically motivated". PTI