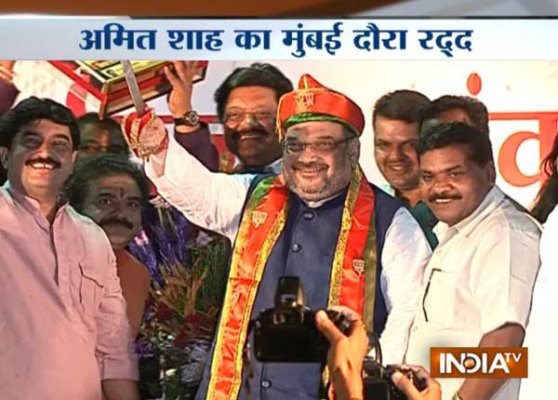 Mumbai: Bharatiya Janata Party (BJP) Amit Shah's Mumbai visit has been cancelled, party sources said today morning.
Shah was expected to arrive here to take part in an event at Rambhau Mhalgi, Bhayandar.
BJP leader Vinay Sahasrabuddhe said that the Rashtriya Swayamsevak Sangh (RSS) has not received any official confirmation about the latest development on Shah's visit but sources in BJP confirmed that he will not travel to Mumbai today as well.
Also on Wednesday, Shah's Mumbai visit was cancelled at last moment.
Sources said that Shah was scheduled to intervene into the ongoing crisis over seat sharing among 'Mahayuti' partners in Maharashtra after reports emerged that smaller parties of the 'grand alliance' -- (Republican Party of India (A), Swabhiman Shetkari Sanghatana, Rashtriya Samaj Paksha and Shiv Sangram) –may quit the coalition.
The latest talking point is about the Shiv Sena getting 150 seats, BJP 125 and the other parties getting 13 seats in the 288-member House.
Polling in Maharashtra will take place on October 15 whereas counting will be done on October 19.
The last date for filing nominations is September 27.