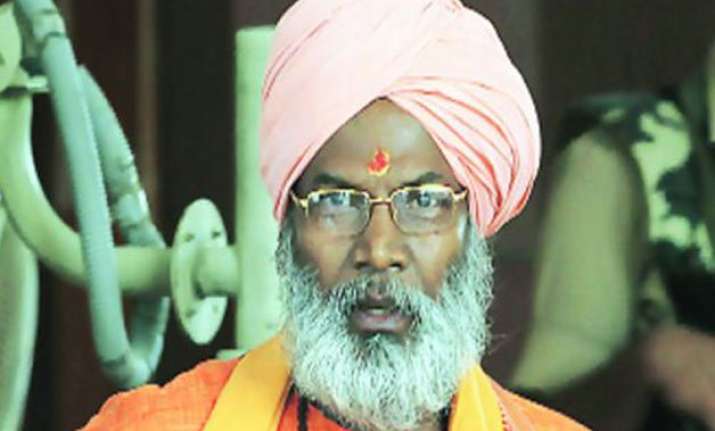 Kanpur: Amidst the commotion of release of a separatist leader Masrat Alam by J&K Chief Minister Mufti Mohammad Sayeed and subsequent widening of rift between BJP and PDP, for the first time a statement has been made by a leader of BJP.
Sakshi Maharaj, the BJP MP from Unnav and the one who got mired into controversies due to his statements a fortnight before has directly warned PDP and the J&K CM Mufti.
Sakshi Maharaj said, "Kashmir mamle mei Bharatiya Janata Party ne chudiya nahin pehni hain (In context of the Kashmir issue, BJP is not wearing bangles)."
Targeting PDP and Mufti family, he said that no one may take it that we have mortgaged Kashmir to Pakistan. He said that the government is going as per the Common Minimum Programme (CMP) and this should be clearly known to Mehbooba Mufti and Kashmir CM Mufti Mohammad Sayeed. 
Meanwhile, the Home Ministry also interfered in the matter and has demanded a report on the same.
While talking to a leading Hindi daily, Sakshi Maharaj said that everybody knows that separatist leader Masrat Alam has been released intentionally.
Famous for his fire brand speeches, Sakshi Maharaj further said, "The entire world knows that for us nation comes before anything else. Mufti Mohammad Sayeed and his daughter say that we have pledged to Pakistan, terrorists and the nation but I want to clarify that BJP hasn't assured anything to Pakistan. This is a serious problem in front of the entire nation. Party is also serious about it. Sangathan is also contemplating about the same. Release of a separatist will not be tolerated."
The BJP MP from Unnav further said, "In order to run the government, certain set of rules will have to be followed. It won't work without it. On Monday, the concerned people will discuss regarding the same. No decisions will be taken against the nation. For us, national interest is above everything."