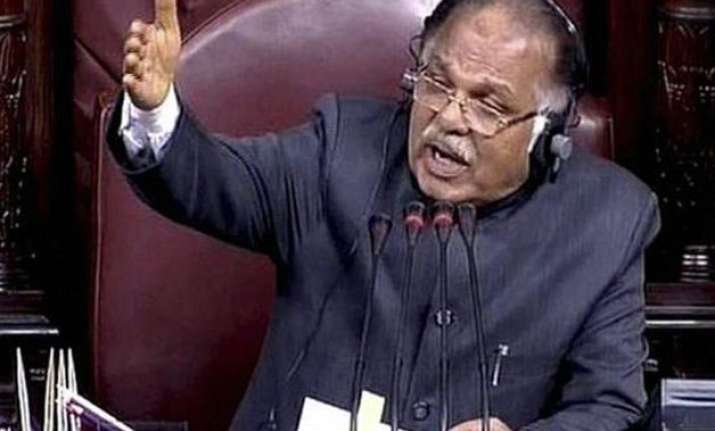 New Delhi: Heated exchanges were witnessed in Rajya Sabha between BJP's Vinay Katiyar and Rajya Sabha Deputy Chairman P J Kurien today after the latter refused permission to the ruling party member to speak on a motion that had already been disallowed.
Trouble broke out after Kurien disallowed SP member Naresh Agarwal's notice under rule 267 seeking suspension of business to discuss a US Congress-established panel's report which said that Indian minorities were being subjected to "violent attacks" and "forced conversions" after the Modi government assumed power in 2014.
Agarwal said the minorities were feeling unsafe under the BJP rule and wanted the government to respond to the report.
Minister of State for Parliamentary Affairs Mukhtar Abbas Naqvi said India's Constitution and culture "guarantees religious freedom. We don't need any certificate from anyone."
After this, Kurien said he is not allowing the motion. However, Katiyar wanted to speak on the subject.
Kurien said once the motion has been rejected and the Minister has responded on behalf of the government, there is no need for anyone else to speak. Katiyar however continued to insist on speaking.
"Minister has spoken. I am not allowing," Kurien told an unrelenting Katiyar who continued to be on his feet.
Katiyar refused to take his seat even when the Deputy Chairman was on his feet to bring the House to order.
Kurien insisted that he would not allow Katiyar to speak. "You cannot browbeat me. Don't browbeat me. Nothing should go on record," he said.
He went ahead and called Mayawati to speak on a separate issue of Moga incident in Punjab.
This agitated Katiyar who angrily stormed into the Well of House and was seen speaking to Kurien from right next to the Chair. This infuriated the Opposition members who strongly protested at Katiyar's behaviour. Naqvi rushed to bring Katiyar back.