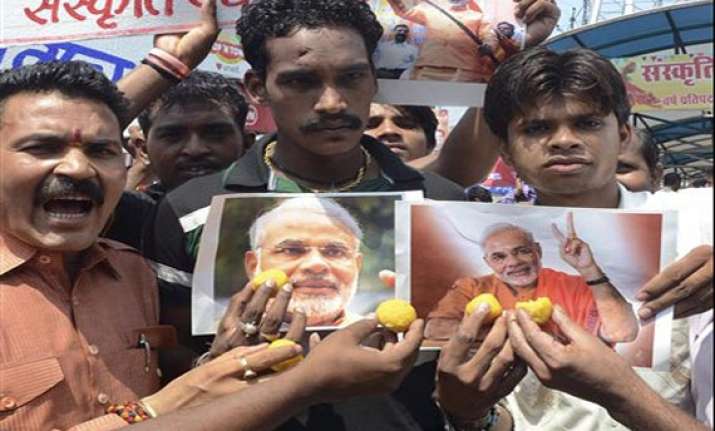 Panaji/New Delhi/Patna, Jun 9: BJP workers came out in Bhopal, Patna and Ahmedabad to celebrate the appointment of Narendra Modi as chief of the party's election campaign committee.
The workers distributed sweets and shouted pro-Modi slogans.
In Panaji, BJP leaders today welcomed the party's decision.
BJP leader, Arun Jaitley said, "It is not only an overwhelming consensus among the leaders but there is a near unanimous view among the cadres that you have to give a special responsibility to a person who is perceived as highly popular and inspirational leader as far as cadres are concerned."
"A party has to play its best possible card in the elections and that is what the party president has done," he said reacting to Modi's appointment as Chairman of the BJP Campaign Committee for the Lok Sabha polls.
Asked whether there were no divisions in the party on the issue and whether Advani had suggested setting up of another Committee, Jaitley said "I am not aware of any such view (of Advani). The entire generation of leaders at present active in the party, not one of them has done a fraction of services that Advani had lent to the party."
Jaitley said with today's decision it will be now a fight between Congress and BJP in which Congress is poorly placed. "We have intensified the campaign against the Congress party," he said.
Meanwhile, senior leader Yashwant Sinha, who kept away from Goa deliberations, did not shed any light on whether he welcomed the anointment of Modi or whether he was with Advani.
In a statement, he said he was one of the earliest in the BJP to speak in favour of Modi. The reason was that the cadres wanted it, the people wanted it.
"He has no match in the Congress party or elsewhere. But, in India, our culture, our traditions and our values teach us to have and show the highest respect and regard for our elders."
"In the last three days, I have been shown as being anti-Modi and pro-Advani. The fact of the matter is that I have neither met nor spoken to Advani since the parliament session ended. It is a fact that I did not go to Goa but the reasons are not political. They are personal and I am entitled to my privacy," the MP from Jharkhand said.
Often pitted to counter Narendra Modi, Madhya Pradesh Chief Minister Shivraj Singh Chouhan today said, "I am confident that not only the party but the entire country would benefit by the decision taken by the BJP President under the guidance of L K Advani and in consultation with senior party leaders."
Only last week Advani, who is strongly opposed to the elevation of Modi in the party hierarchy, had heaped praise on Chouhan and compared him with former Prime Minister Atal Bihari Vajpayee.
"I congratulate him (Modi). We all will work tirelessly to ensure that BJP forms the government at the Centre in 2014," Chouhan said reacting to Modi's appointment as Chairman of BJP's Campaign Committee for 2014 Lok Sabha elections.
He said Advani's blessings would always be with Modi and other leaders of the party.
"I congratulate Shri Narendra Modi on being appointed as the chief of BJP's campaign committee. We shall collectively ensure BJP's victory," Chouhan later posted on Twitter.
"Modiji is an able administrator, strong organisation leader. Under his stewardship BJP has made a hattrick in Gujarat," Chouhan wrote.
Chhattisgarh Chief Minister Raman Singh told PTI over phone from Panaji, "I congratulate Modiji for his selection. It will bring end to Congress party's misgovernance. The party will win 2014 general elections with thumping victory under his guidance."
"A number of youths are already associated with Modiji. This decision will also bring thousands of other youths from across the country more closer to him," Singh said.
He claimed Modi will not only ensure BJP's victory in general elections, but also in four states -- Madhya Pradesh, Chhattisgarh, Rajasthan and Delhi.
Singh downplayed the absence of BJP veteran L K Advani from the party's meet at Panaji, saying "his guidance is always with the party and its leaders".
Goa Chief Minister Manohar Parrikar said, "There is nothing called era in the BJP but I feel it is the time for younger generation to take over the reins of the party."
"This is an important day for India. When we say Congress is indecisive and does not act, we should set up a precedent by deciding in time. The best precedent we set was deciding in time about electing Modi," Parrikar reacted.
"Indecisiveness by Congress was clearly destroying the country. Today's decision by BJP is a clear signal that India is ready for a change," the chief minister said.
The Goa chief minister has been publicly supporting Modi to be the Prime Ministerial candidate of the party for forthcoming Lok Sabha elections. Parrikar in a recent interview had indirectly taken a dig at senior leader L K Advani when he said that at the age of 65 a politician should retire.
NDA ally Shiromani Akali Dal today welcomed BJP's decision to anoint Narendra Modi as Chairman of its Election Campaign Committee for the 2014 polls, saying the decision would be "catalytic" in the alliance's victory march.
"The people of the country are looking towards National Democratic Alliance to save the country from the clutches of most corrupt UPA government. As Narendra Modi has been made Chairman of Poll Campaign Committee of BJP, the biggest alliance partner of NDA, it (the decision) would be catalytic in NDA's victory march in 2014 elections," SAD leader Sukhbir Badal said in a statement here.
This is the "beginning of decimation of corrupt, inefficient and insensitive UPA-II government from the Centre," he said.
"We should utilise his services to effectively chalk out NDA's campaign, and projecting the failures of UPA-II," he added.
He also said the SAD has remained an inseparable part of NDA and would continue to support BJP in all its moves and decisions to oust Congress from power.
Gujarat Chief Minister Narendra Modi's anointment as BJP's election campaign committee chairman today spurred celebrations among party workers who burst fire crackers and distributed sweets in Bihar.