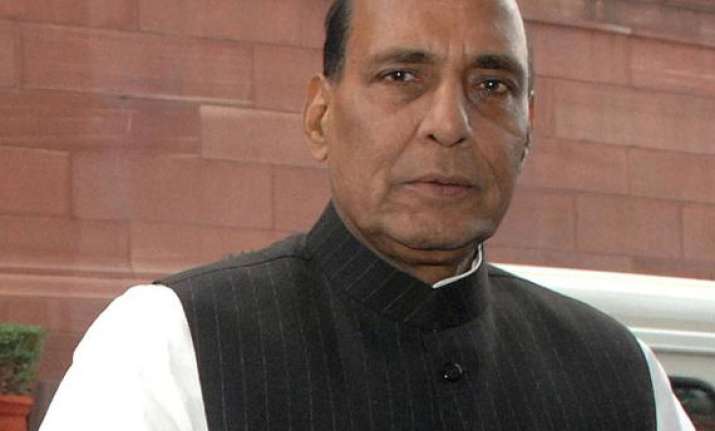 New Delhi, Aug 9: BJP President Rajnath Singh yesterday said the party has not taken any decision on projecting a chief ministerial candidate for the forthcoming Delhi Assembly elections or zeroed in on any name for the purpose.
"The party has not closed in on any candidate for the post of Delhi Chief Minister. The BJP Parliamentary Board has not taken any decision on the issue. It will take a decision on the matter at the appropriate time," Singh told PTI.
BJP is also undecided about whether it should project a chief ministerial candidate for the Delhi elections or take a call after the polls.
Singh's statement yesterday comes in the wake of reports that BJP has decided on the CM candidate and an announcement is imminent. The names of former minister Harshvardhan, Delhi BJP Unit Chief Vijay Goel and others have reportedly been doing the rounds.
Party sources said the top brass is apprehensive about announcing any leader as a chief ministerial candidate as declaring a name may lead to acrimony and may jeopardise the party's prospects in the Assembly elections due later this year.
"The rate with which the income disparity is increasing, it is a matter of concern. Increasing income disparity is a threat to the country's unity. We will have to accept that if the benefit of development doesn't reach to everyone equally, then we can't rule out the possibility civil unrest," Singh told a gathering of NDMC councillors.
After Mumbai and Ahmedabad, Delhi will be the third city in the country that will have a medical college owned by its municipal corporation.
Owned by NDMC, Hindu Rao Hospital has become Delhi's first municipality-run medical college. The first batch of 50 medical students have taken admission.
The idea was conceived by former Municipal Commissioner, K S Mehra and Mayor and within seven months, between November last year to July this year, it has become functional.
The Hindu Rao Medical College, which would be named as Atal Bihari Vajpayee NDMC Medical College, has already received the formal go ahead from the Medical Council of India and affiliation from IP University.
All the infrastructure-related works like laboratories, library, classrooms and even the recruitment of the faculty have already been done, NDMC Commissioner P K Gupta said.
Delhi offers around 600 undergraduate and postgraduate seats in all through various medical colleges in the city. With another 50 seats offered by the Hindu Rao Medical College, it will ensure a bigger platform for medical aspirants.
Hindu Rao Hospital already offers diploma courses in nursing and anaesthesia.