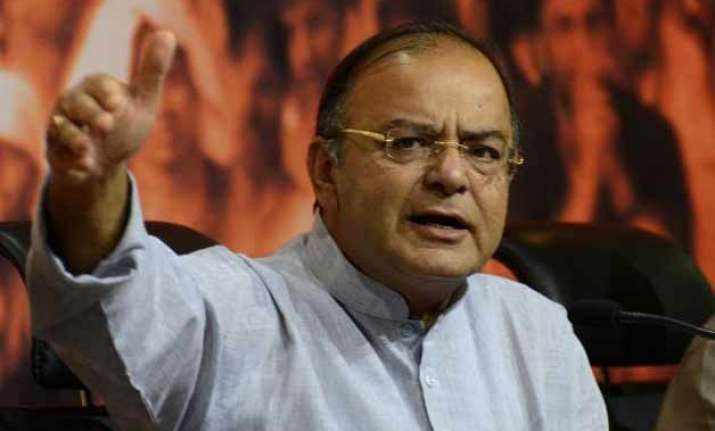 New Delhi: The government today criticised Congress for giving a dissent note in the Select Committee on GST, saying it is against its own bill and Chief Ministers and hoped the opposition party will reconsider its "irresponsible" decision.
Finance Minister Arun Jaitley said the government will go ahead with the GST legislation in Parliament that seeks to create a simplified tax structure across the country which is "revolutionary".
He said the government will try and build a consensus on the legislation and explain the rationale and reasoning to various parties including Congress.
"It is hardly a dissent note on the bill; it is a dissent against the Congress party's own proposals which were originally given. Congress MPs are giving a dissent against the suggestions made by their own Chief Ministers," he said.
Jaitley said Congress has given its dissent note against the wish of traders who are demanding implementation of GST due to which the country's GDP will increase.
"I hope that the Congress party will reconsider its irresponsible decision," he said, noting that he has never seen a political party which opposes its own legislation and gives a dissent note against suggestions given by its own Chief Ministers and state governments.
Asked if the government was hopeful of getting the bill passed, the Finance Minister said, "I am hopeful and therefore, we are going to go ahead with the GST legislation.
We will still try and build consensus and explain the rationale and reasoning as far as Congress is concerned."
He went on to say that if Congress opposes this bill, "then the country will oppose Congress. Every citizen and trader in the country will oppose Congress".
Jaitley said, "Congress is against the country's progress...This it has established by giving this dissent note."
He noted that there was a consensus on this legislation after a lot of discussion and the government will try and talk to all parties to get this legislation passed.
The Select Committee of Rajya Sabha today placed the report of the Goods and Services Tax (GST) before the House.