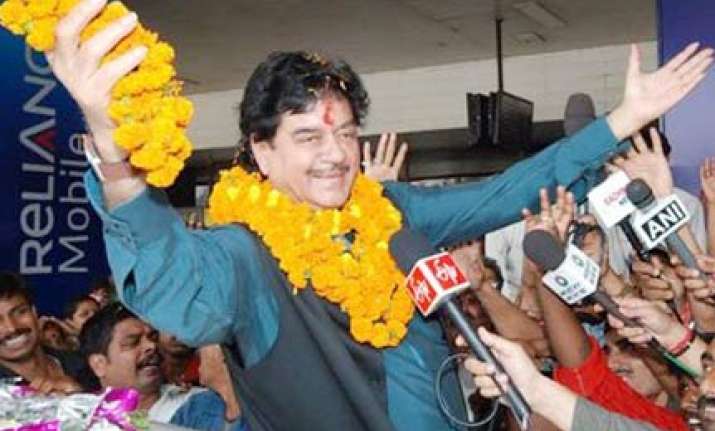 Actor and Bharatiya Janata Party's member of Parliament Shatrughan Sinha on Wednesday dismissed reports that he had some differences with the party over denial of ticket to one his supporters from Bankipore assembly segment in his Patna Sahib Lok Sabha constituency for the Bihar polls. He said he was not one to harbour any grudge against anyone and that he and the party were "made for each other."
"I don't harbour a grudge against anyone. The BJP and I are made for each other. Who told you I am angry? I have been busy with my new film Rakt Charitra," Sinha told mediapersons in Patna.
"I am not an immature politician who sulks. I have seen the party rising to new heights. I have my own contribution to make, which always makes me happy. I have opted for the BJP and will spend my whole life serving the party as a star activist and a star manager," he added.
The MP said he will begin campaigning for National Democratic Alliance candidates from Thursday. "I am here once again for the cause of the party and alliance."
Denying reports of differences over joint campaigning by the leaders of the two ruling parties, Sinha said, "Joint campaigning is going on in full swing and I am going to attend several election rallies with Janata Dal-United leaders."
Sinha said he had been drafted in by party stalwarts like Nitin Gadkari, L K Advani, Dharmendra Pradhan and C P Thakur. Lauding the work done by Bihar Chief Minister Nitish Kumar and his deputy S K Modi, Sinha, said, "No one can doubt the policy and intentions of these two leaders." A miracle, however, cannot be expected overnight, he said adding, "They require another five-year term." PTI