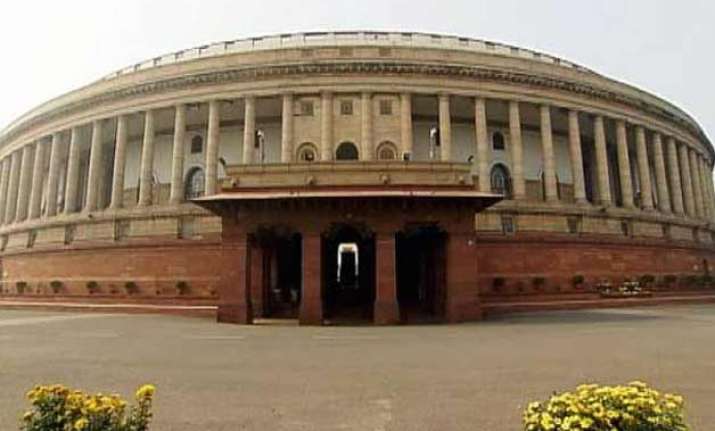 New Delhi:  A Private Member was introduced in Lok Sabha seeking to impose a time limit of one year for disposal of mercy petitions by President in cases of offences concerning terrorism or sedition.
The Constitution Amendment Bill was moved by BJP member Kirit P Solanki who said the "power (to grant pardon) needs to be subject to condition that the decision of the President shall be conveyed within one year of the presentation of the receipt of the mercy petition."
Under Article 72 of the Constitution, the President has powers to grant pardons or respites to persons convicted of any offence.
Solanki's bill was one of the 44 private members' bills introduced in the Lok Sabha on Friday.
The other bills relate to host of issues including prohibition of indecent advertisements, stringent laws to deal with prostitution and more social security measures for farmers and poor.
Among others, BJP member Arjun Meghwal introduced separate bills for amending the Food Safety and Standards Act of 2006 to provide for grading of fruits and vegetables, and setting up High Court Bench at Bikaner and expanding the scope of integrated child development scheme.
Solanki also introduced another bill seeking to "prohibit indecent advertisement depicting vulgarity, obscenity, violent actions or horror, which adversely affect the mind of citizens, particularly youth."
Sunil Kumar Singh (BJP) introduced a bill to prevent trafficking of girl child by providing for capital punishment to those involved in such crimes.
BJP member Nishikant Dubey moved a bill for providing social security to farmers and agriculture workers. Dushyant Chautala (INLD) came up with a bill to prevent misuse of religious institutions by political parties.
Jagdambika Pal (BJP) introduced bills to amend the contempt of Courts Act, 1971 and Indian Penal Code, 1860. Gopal Chinayya Shetty introduced a bill for prohibition of sale of gutka and pan masala.
C R Patil (BJP) came up with a bill for opening of generic medicines shops, while P Ravindra Babu introduced a bill for providing special financial assistance to Andhra Pradesh.
Another member Rajesh Ranjan alias Pappu Yadav (expelled RJD member) introduced a bill to provide for fixing retail price of all fertilisers by the central government.